Introducing ShopAgain Conversations: Your New Customer Support Superpower

In today's fast-paced e-commerce landscape, customer support is paramount. The ability to provide quick and efficient assistance can make or break a business. At ShopAgain, we have always been committed to enhancing the customer experience, and our latest feature release is a testament to that commitment. We are thrilled to introduce "ShopAgain Conversations" as a full-fledged support channel that integrates seamlessly with SMS and WhatsApp marketing.
‍Evolution of ShopAgain Conversations
‍Our journey began when we noticed that many customers were using SMS and WhatsApp messages to ask questions, seek assistance, and provide feedback. Recognizing the potential of these channels, we took a step forward and introduced a messaging feature last year. The response was overwhelming, and we soon realized that it was time to elevate this feature into a comprehensive support channel.
ShopAgain Conversations: A Game-Changer for Customer Support
Here's why ShopAgain Conversations is a game-changer for your customer support efforts:
Unified Messaging: With ShopAgain Conversations, you can now handle all customer inquiries, whether they come through SMS or WhatsApp, in one centralized platform. Say goodbye to juggling multiple apps and platforms to respond to customer queries.
Complete Message History: In the chat window, you have access to both current and previous messages from a user. This means you have all the context you need to provide personalized and effective support. No more hunting for past support tickets; everything is conveniently accessible in the same window.
Broadcast and Campaign Messages: ShopAgain Conversations also allows you to send broadcast and campaign messages to your users. Engage with your customers effectively, whether it's announcing a sale, sharing updates, or providing valuable content.
User Profiles: On the right side of the conversation window, you can view a detailed profile of the user. This includes information such as their name, contact details, and even the last five orders they've made from your store. This insight empowers you to offer tailored support based on their purchase history.‍‍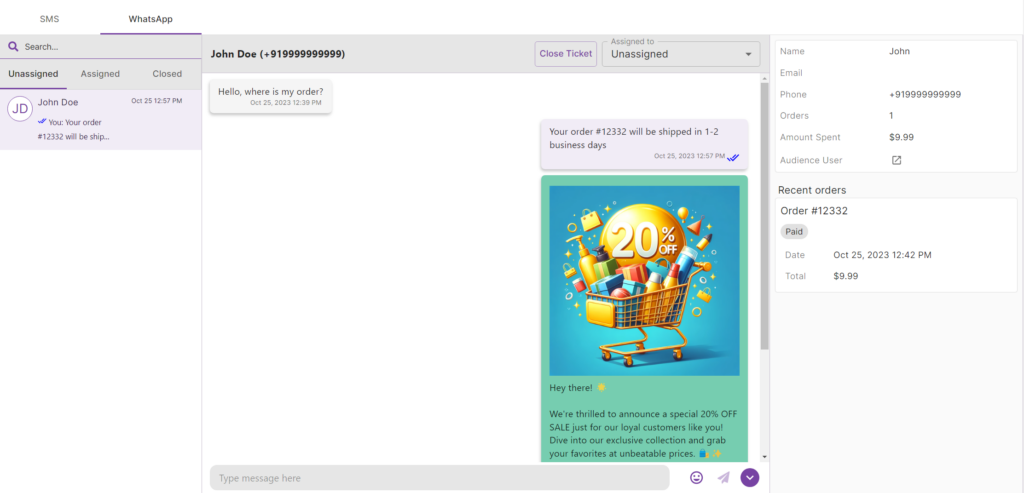 Content Library: Streamlined Content Management
As part of our commitment to improving your customer support experience, we've introduced a revamped Content Library within ShopAgain Conversations. Here's what you can expect from this new feature:
Centralized Content Management

: The "Content" menu has been renamed to "Content Library," becoming the central hub for managing all your content and templates. Now you can effortlessly create, store, and access your messages and templates in one place.

WhatsApp Templates

: WhatsApp templates have been moved to the Content Library so you can find all your content-related things in one place.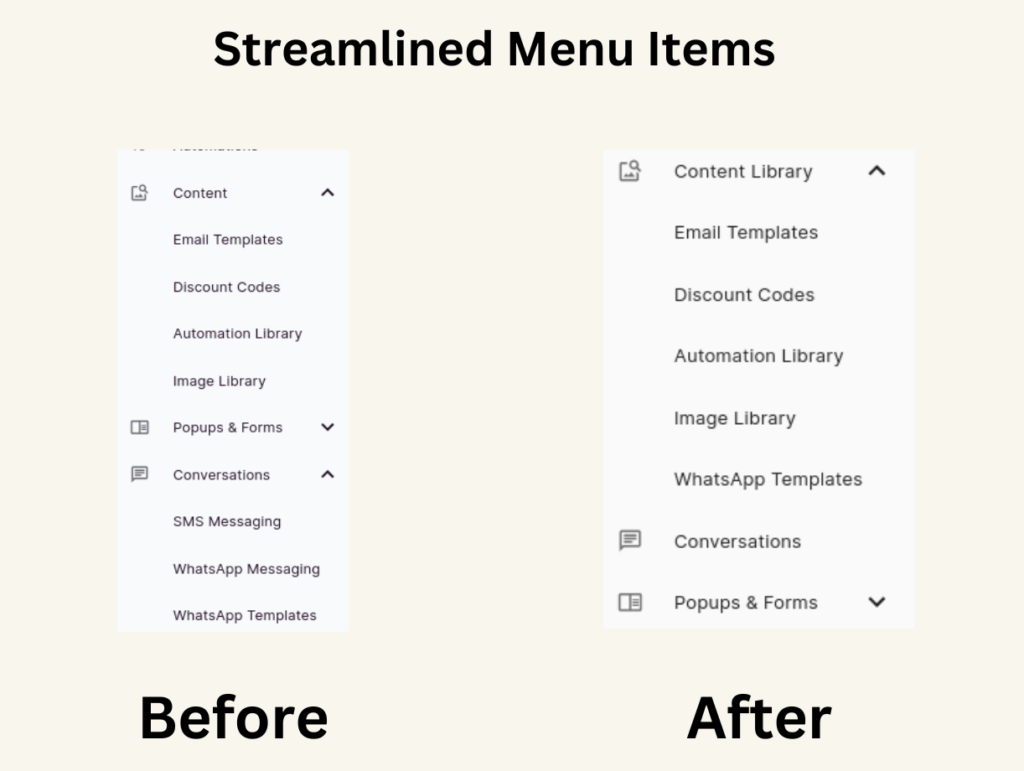 Our user-friendly interface, combined with the organized structure of the ‍, ensures a smooth browsing experience. With ShopAgain Conversations at your fingertips, redefine the way you connect and cater to your customers, propelling your brand to new heights of customer satisfaction and loyalty.
---