ShopAgain vs Mailchimp: A Side-by-Side Comparison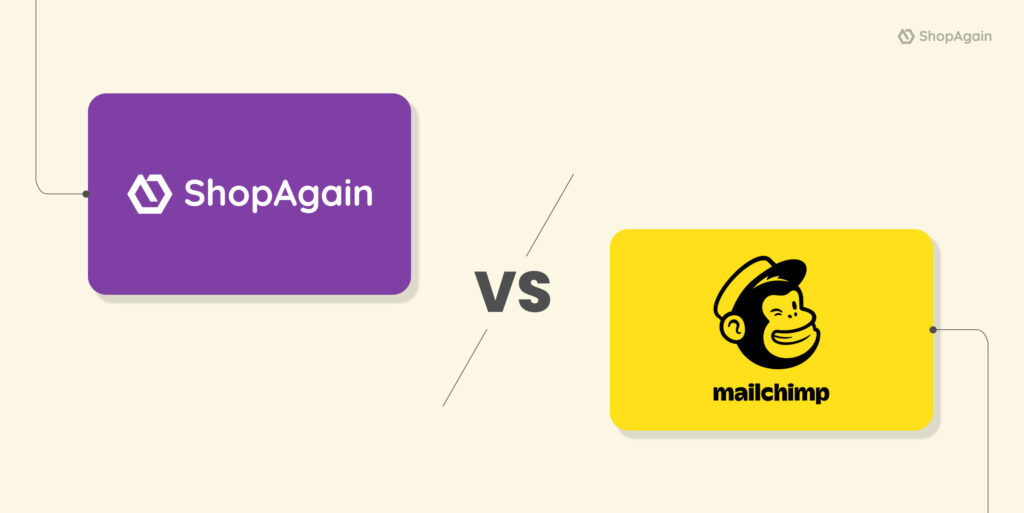 MailChimp used to be the most popular email marketing tool, but many customers are dissatisfied due to multiple price hikes and a refusal to comply with Shopify's data usage rules. Their rating on Shopify is 3.5 out of 5.
This brings us to seek answers to a question- what's a good alternative to MailChimp? 
One platform that's gaining popularity as an alternative is ShopAgain. In this blog, we'll compare the features, benefits, and pricing of MailChimp and ShopAgain.‍
E-commerce Focus
MailChimp is a broad email marketing platform that lacks specialized tools for e-commerce stores and doesn't cater to specific user bases. On the other hand, ShopAgain is a targeted omnichannel marketing platform that's tailor-made for e-commerce stores. It has a purpose-built design that focuses on enhancing customer retention, with features like a vast collection of e-commerce focuses email templates, product picker, dynamic discount codes, and all channels available to guide customers for maximum Average Order Value (AOV) and Customer Lifetime Value (CLV).‍
The Email Template Editor 
Both platforms provide pre-built and customizable email templates for users to begin with. However, MailChimp's basic templates can be challenging to customize for a store-specific design. Customers who switched from MailChimp to ShopAgain found the email template library to be more customizable. This implies that users are not restricted to basic options if they want to create more visually appealing designs.
Another difference is that MailChimp only grants access to the pre-built email template library to its paid plan users. Conversely, ShopAgain provides all users access to and usage of all templates from its repository, regardless of their plan. Additionally, the templates can be duplicated and customized in ShopAgain. This means that users don't have to start creating a new template from scratch every time.
By the way, both platforms feature a drag-and-drop email template editor. Users can also select products from their store without the need to manually insert images. With ShopAgain, users can either choose specific products or go with AI-powered recommendations, such as bestsellers, trending items, and more. 
ShopAgain allows users to save individual email blocks for future use, which is not possible in MailChimp. In MailChimp, users would have to create the block again from scratch. ShopAgain also features a global theme setting for your store, where you can customize a theme for your entire library. This saves you the effort of having to edit each template individually. This feature is not available on MailChimp, regardless of the pricing plan.
ShopAgain is the clear winner here. 
| Email Builder | Mailchimp | ShopAgain |
| --- | --- | --- |
| Drag and Drop Builder | Yes | Yes |
| Product picker | No | Yes |
| Mobile responsive | Yes | Yes |
| Product recommendations | No | Yes |
| Saveable email blocks | No | Yes |
| Discount codes | No | Yes |
Email Campaigns & Flows

‍

Similar to before, Mailchimp's free plan offers very limited capabilities. Core features such as automation and AB testing are not included in the free tier. This makes it very challenging to use for e-commerce purposes, as stores heavily rely on 5-6 basic flows (such as welcome series, abandoned cart series, winback series, etc.) for their email revenue.
| Email Campaigns | Mailchimp (free plan) | ShopAgain (free plan) |
| --- | --- | --- |
| Monthly Email Limit | Yes | No |
| Remove Branding | No | Yes |
| Email Template Library | No | Yes |
| Email Scheduling | No | Yes |
| Automations | No | Yes |
| Customer Segmentation | No | Yes |
| A/B (Split)Testing | No | Yes |
| Deliver by Timezone | No | Yes |
It's evident that ShopAgain provides a much more generous offering in comparison to Mailchimp.
SMS Marketing

Both Mailchimp and ShopAgain support SMS campaigns and automation. However, Mailchimp only permits SMS to the US, Canada, the UK, Singapore, and Australia, whereas ShopAgain enables you to send SMS to over 150 countries. Additionally, ShopAgain allows you to send multiple emails & SMS as part of the same automation or flow.
If your customer base extends beyond the countries supported by Mailchimp, then ShopAgain should be your go-to tool.‍
List-Building

Both platforms have popups and forms to help grow your email and SMS list. Mailchimp only offers basic popups for free, while ShopAgain provides a comprehensive popup builder, advanced targeting, and a large library of pre-built popups to all users at no cost.
In summary, ShopAgain has a slight edge over Mailchimp due to its vast popup template library accessible to all users.
Segmentation 
Both ShopAgain and Mailchimp provide customer segmentation based on:
Profile data: language, location, age, income, gender, education, occupation etc
Campaign activity: email opens, link clicks, campaign interest
Purchases: viewed products, purchased, abandoned cart items
‍ShopAgain provides the ecommerce industry's most versatile segment builder, enabling users to use hundreds of data points in segments, have an unlimited number of segments, and choose from a pre-built segment library if they don't want to create one from scratch. 
Therefore, ShopAgain is the definitive winner in this category.
Integrations
MailChimp provides various integrations, from advertising to back-in-stock reminders to customer support.
Although ShopAgain doesn't have as many integrations, the best part is that most of these applications are natively built into ShopAgain. This greatly reduces the number of apps you need to use.
ShopAgain is integrated with Judge.me for reviews and WhatsApp for mobile marketing. The integration list of ShopAgain is limited to the ones that are necessary for small and medium-sized ecommerce stores.
If your store requires too many integrations, MailChimp might be a better fit.‍
Multi-channel vs Omnichannel
When comparing channels, MailChimp is limited to email and Google/Facebook ads, whereas ShopAgain is an omnichannel platform that offers messaging on SMS, email, WhatsApp, and Google and Facebook ads. This enables stores to provide a consistent personalized experience to their customers across multiple channels.
It's worth noting that with Mailchimp, Facebook retargeting is limited to its higher tiers, Standard and Premium.
‍In contrast, ShopAgain provides retargeting ads on all tiers, including the free plan. Additionally, unlike Mailchimp, ShopAgain enables users to natively send SMS and WhatsApp messages as part of their campaigns and/or flows.
ShopAgain is undoubtedly a true omnichannel platform in comparison to Mailchimp.‍
Customer Support
Mailchimp's free plan users can access email support for 30 days, after which they have to rely on guides and tutorials, as there is no chat support for free users.
In contrast, ShopAgain provides readily available customer support over email and WhatsApp 24×7, irrespective of the plan you choose or during the trial period. Additionally, guides, help documents, video tutorials, and other resources are available as well.
Therefore, ShopAgain is the clear winner in this category. The primary reason ShopAgain offers premium customer support to all its user base is that they strongly believe that every e-commerce store requires support to grow, not just the ones who pay more.
Pricing
‍Mailchimp includes non-subscribers in your mailing list as contacts and charges you accordingly. For instance, if you have 2000 people on your list, and 500 of them are not subscribers, MailChimp will bill you for all 2000, not just 1500. In contrast, ShopAgain only charges based on subscribed users. This creates a significant difference since most businesses have over 40% of their email list filled with non-subscribers.
‍Let's compare the Premium plan of Mailchimp with ShopAgain, we are looking into the Mailchimp premium plan since this is the one that offers features similar to ShopAgain.
| Email Contacts | Mailchimp (Premium tier) | Mailchimp (Essentials tier) | ShopAgain (free plan) |
| --- | --- | --- | --- |
| 500 | $350 | $15 | Free |
| 2,500 | $350 | $39.5 | $40 |
| 5,000 | $350 | $69 | $75 |
| 10,000 | $350 | $100 | $125 |
| 2500 | $350 | $39.5 | $40 |
| 25,000 | $620 | $260 | $200 |
| 50,000 | $815 | $350 | $310 |
Mailchimp clearly burns a deep hole in your pocket for features that ShopAgain offers to all users at no cost. Although Mailchimp's Essential tier seems to be similar in pricing to ShopAgain, it lacks several crucial features necessary for small and medium-sized e-commerce stores:‍
Only Owner/Admin access
No pre-built flows
No Advanced Segmentation
No Campaign Manager
Limited set of basic email templates
No re-targeting via Google and Facebook Ads
Only single-step flows allowed, so you cannot create a flow containing multiple emails/messages
No delivery by timezone, so you cannot send emails based on recipient's timezone
No phone support
No send-time optimization
Mailchimp's pricing is not suitable for smaller and medium-sized businesses, as they seem to charge stores for every small feature, and as your business grows, the costs quickly add up.
On the other hand, ShopAgain's pricing is far more reasonable.
Conclusion
If you are a small or medium business owner on a budget, the smart choice would be to opt for ShopAgain. Mailchimp is costly and only provides a few basic features to its free plan users. On the other hand, ShopAgain offers all the features in its arsenal (vast library of email and popup templates, advanced segmentation, unlimited emails, flows, product recommendation in emails, AB testing, SMS & WhatsApp, advanced analytics & reporting etc.) to free plan users. Additionally, as your business grows, ShopAgain continues to offer advanced features at a much more reasonable price and a fraction of what Mailchimp charges.
‍
---