ShopAgain vs Klaviyo: A Side-by-Side Comparison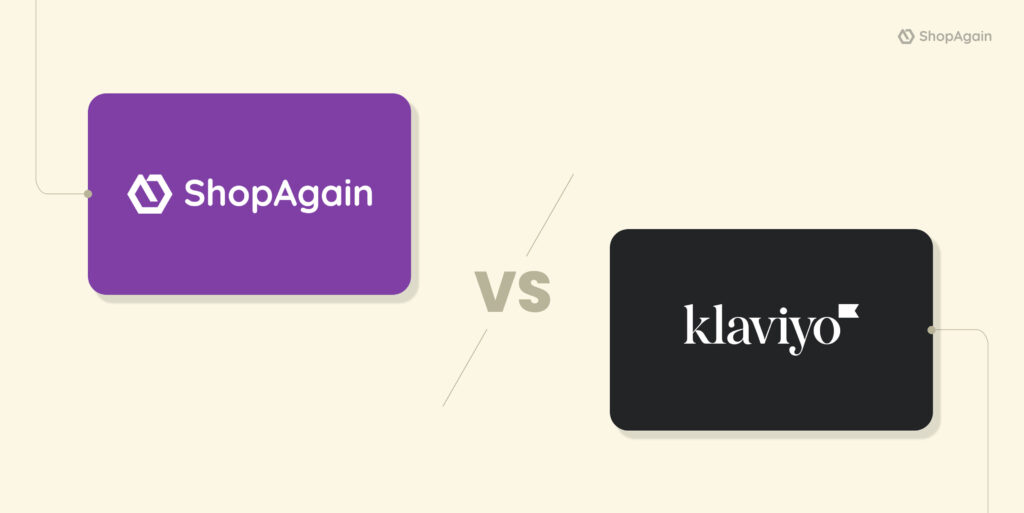 In e-commerce, having the right marketing platform is key for success. That's why businesses are looking for innovative tools to connect with customers, drive sales, and grow their brand. ShopAgain and Klaviyo are two platforms that can help. ShopAgain is an all-in-one platform that automates marketing campaigns to boost revenue, while Klaviyo offers email & SMS marketing. In this blog, we compare the features, benefits, and pricing of these two platforms.‍
Small & Medium E-commerce Focus
Both Klaviyo and ShopAgain are designed to meet the unique needs of eCommerce stores. However, Klaviyo has been focusing more on larger enterprises and Shopify Plus stores, which has resulted in decreased customer support and higher pricing for smaller businesses. 
On the other hand, ShopAgain is highly focused on catering to the needs of small and medium-sized eCommerce stores. The platform's powerful automation features have garnered positive reviews and a growing customer base. 
Ultimately, the decision between these platforms depends on the specific needs of your business, but if you're a smaller eCommerce store looking for a platform that prioritizes your needs and simplifies your day-to-day marketing tasks, ShopAgain may be the perfect fit for you.‍
Email Marketing
Both apps have drag-and-drop email editors that don't require coding skills. Klaviyo and ShopAgain provide plenty of templates to jumpstart your design. You can add products from your store directly to the email via a product-picker.
| Email Builder | Klaviyo | ShopAgain |
| --- | --- | --- |
| Drag and Drop Builder | Yes | Yes |
| Email Template Library | Yes | Yes |
| Mobile responsive | Yes | Yes |
| Product recommendations | For some categories | Yes |
| A/B (Split)Testing | Yes | Yes |
| Saveable email blocks | Yes | Yes |
| Discount codes | Yes | Yes |
Klaviyo's email editor allows you to add text, images, columns, buttons, and tables. However, ShopAgain's email editor has better functionality and outperformed Klaviyo in several key areas:
1. Adding discount codes on Klaviyo can be a bit of a challenge, whereas on ShopAgain, it's as simple as dragging and dropping a block.
2. ShopAgain's template library boasts hundreds of curated templates, regardless of the plan you're on, while Klaviyo falls short in terms of template choices. Even Klaviyo's free templates can be difficult to customize to match your store's design style.

In ShopAgain, you can save your store's theme and all the templates from the library will match it. This makes customizing any email template from the ShopAgain library much easier.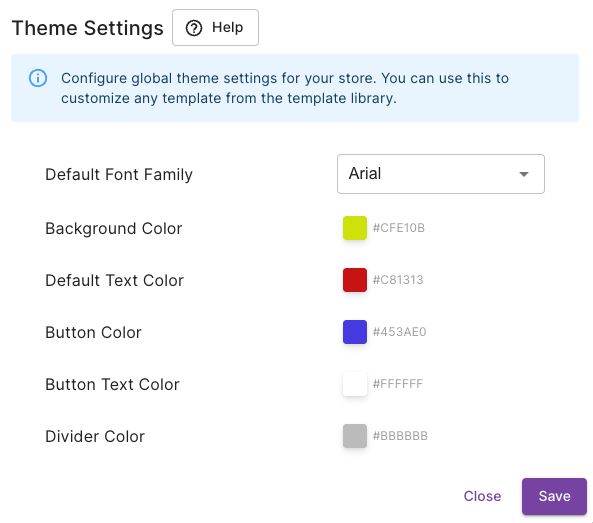 3. ShopAgain also offers an advanced feature that Klaviyo lacks, allowing you to use patterns and images in the email background, and this feature is available on all pricing plans.
4. With ShopAgain, there's no need to use a third-party app just to access a countdown timer in your emails, as the email editor comes with a built-in timer feature.
5. Similar to Canva, ShopAgain's email editor lets you write text over images, providing you with more creative options for designing your email campaigns.
6. ShopAgain's email editor features a version history function similar to that of Google Docs, which allows you to quickly restore any previous design of your email template with just one click.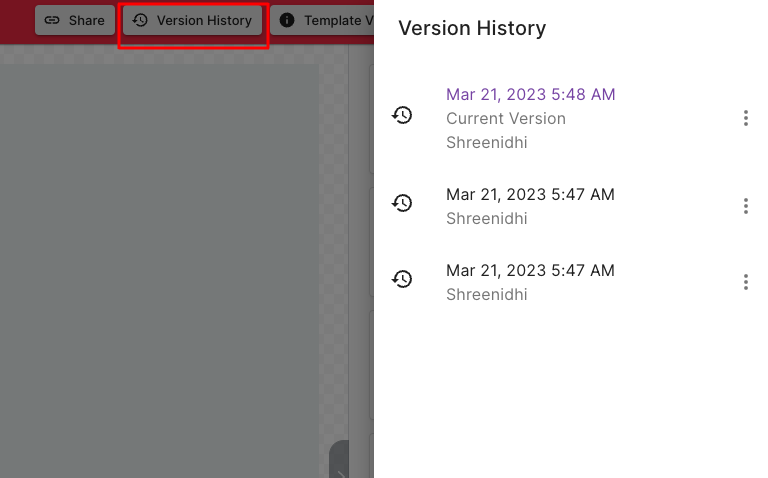 7. In contrast to Klaviyo, ShopAgain's email editor includes a built-in product recommendation block, enabling you to seamlessly showcase bestsellers, trending products, cross-sell or upsell in your emails.
ShopAgain emerges as the clear winner in this comparison.
SMS Marketing
Both Klaviyo and ShopAgain support SMS campaigns and automations. The key difference is Klaviyo only allows SMS to US, Canada, UK, and Australia while ShopAgain lets you send SMS to 150+ countries. With ShopAgain's SMS pricing, you pay only for what you use, so there's no monthly contract or limit.
‍If your customer base extends beyond the countries supported by Klaviyo, ShopAgain should be your tool of choice.
‍Abandoned Cart Recovery
It's worth noting that Klaviyo and ShopAgain track cart abandonment differently. ShopAgain uses cookie-based tracking (for Shopify) and is able to identify users as soon as they add products to their carts. On the other hand, Klaviyo only identifies users at the checkout step. As a result, ShopAgain has an advantage in tracking and recovering more abandoned carts, even if the user hasn't reached the checkout step yet.
In this category, ShopAgain comes out on top, as it can recover more abandoned carts than Klaviyo.‍
Popups
List-building is essential for any marketing strategy. Klaviyo and ShopAgain both offer targeted popups to convert visitors into subscribers. Klaviyo has popup templates that you can customize with triggers like time on site or visiting specific pages. You can also target specific segments with personalized messages and offers. ShopAgain also offers customizable popup templates and advanced targeting options like geo-targeting and cart abandonment.‍
It's a tie for both.
Segmentation and Targeting‍
Both Klaviyo and ShopAgain offer advanced segmentation options for personalized messaging. However, ShopAgain has an advantage with over 15 pre-built customer segments like one-time buyers, repeat customers, and loyal patrons. This means businesses can use them right away without building from scratch.
ShopAgain divides your audience into the following categories:
Persona: Who the customer is, 
Behavior: What the customer has done so far and where they are on their journey,
Activity/History: How they have responded (or not) to previously delivered campaigns
Both apps allow you to sync your audiences to Facebook to use for retargeting ads. Only ShopAgain allows you to do this for Google as well. 
ShopAgain slightly edges out Klaviyo in a near-tie competition. Both offer advanced customer segmentation, but ShopAgain also provides 15+ pre-built customer segments for added user convenience.
Automation Workflows
Both platforms have excellent automation workflows to monitor campaigns. Klaviyo's workflow is powerful with conditional and trigger splits for targeting subscribers, and ShopAgain's workflow offers similar features.
| Features | Klaviyo | ShopAgain |
| --- | --- | --- |
| Visual Automation Workflow | Yes | Yes |
| Automation Splits | Yes | Yes |
| Cart/Browse Abandonment | Yes | Yes |
| WhatsApp | No | Yes |
| Email | Yes | Yes |
| SMS/MMS | Yes | Yes |
While the automation flow capabilities of both platforms are comparable, ShopAgain provides more communication channels than Klaviyo. This makes ShopAgain a more appealing option for businesses that prefer to engage with customers via WhatsApp.
Customer Support
Klaviyo provides email and chat support only to paid users with limited hours on weekdays and weekends. On the other hand, ShopAgain provides 24×7 customer support on email, chat, and WhatsApp to all customers, free or paid.
| Features | Klaviyo | ShopAgain |
| --- | --- | --- |
| Email | Yes | Yes |
| 24x7 Chat Support | No | Yes |
When it comes to customer support – ShopAgain wins hands down. 
Integrations
Third-party apps for collecting ratings and reviews work on both platforms. ShopAgain integrates with Judge.me for reviews, WhatsApp, Facebook Custom Audiences, Facebook Leads Ads Sync, and Google Customer Match. Klaviyo offers a range of integrations, including loyalty and rewards programs, checkout services, and shipping and tracking reminders. ‍
If you need too many integrations, Klaviyo might be a better fit. Klaviyo ranks higher than ShopAgain in this category.
Pricing
Both ShopAgain and Klaviyo offer pricing based on the number of subscribers you have. ‍
Email Pricing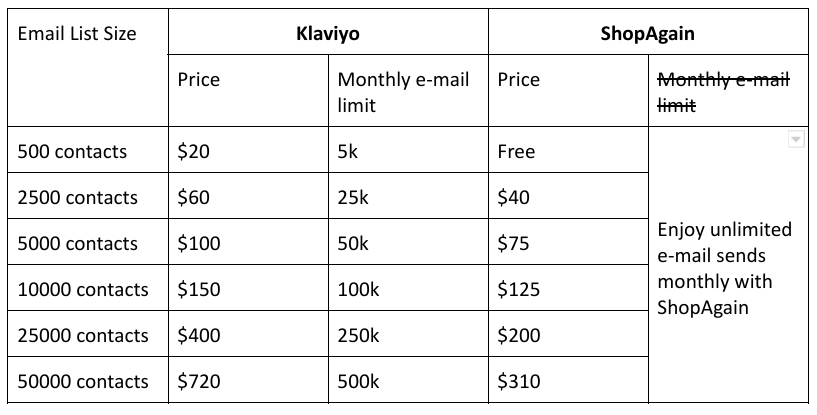 Email & SMS Pricing
(SMS pricing is modelled for 2 SMS sent to each contact per month)‍
| Send to | Klaviyo | ShopAgain |
| --- | --- | --- |
| 500 contacts | $35 | $10 |
| 1000 contacts | $55 | $35 |
| 2500 contacts | $105 | $90 |
| 5000 contacts | $190 | $175 |
| 10000 contacts | $330 | $325 |
| 25000 contacts | $850 | $700 |
| 50000 contacts | $1620 | $1310 |
Greater flexibility: With ShopAgain, one can also opt for an SMS-only plan. However, with Klaviyo, one needs to choose an Email-only, or an Email + SMS plan.
The clear winner in this category is ShopAgain. Klaviyo is almost twice as costly as your email list size grows. ‍
Conclusion
While both ShopAgain and Klaviyo are viable options for eCommerce sellers looking to scale their businesses, ShopAgain emerges as the stronger choice in most categories. As a business owner, it's important to research all available options and select the platform that best fits your budget and needs. While Klaviyo offers more integrations, ShopAgain excels in the areas of automation, email marketing, pricing, and customer support. Ultimately, the choice between the two platforms depends on the specific needs and goals of your business.
---