SMS v/s Email Marketing: Which One Gets Better Results in 2022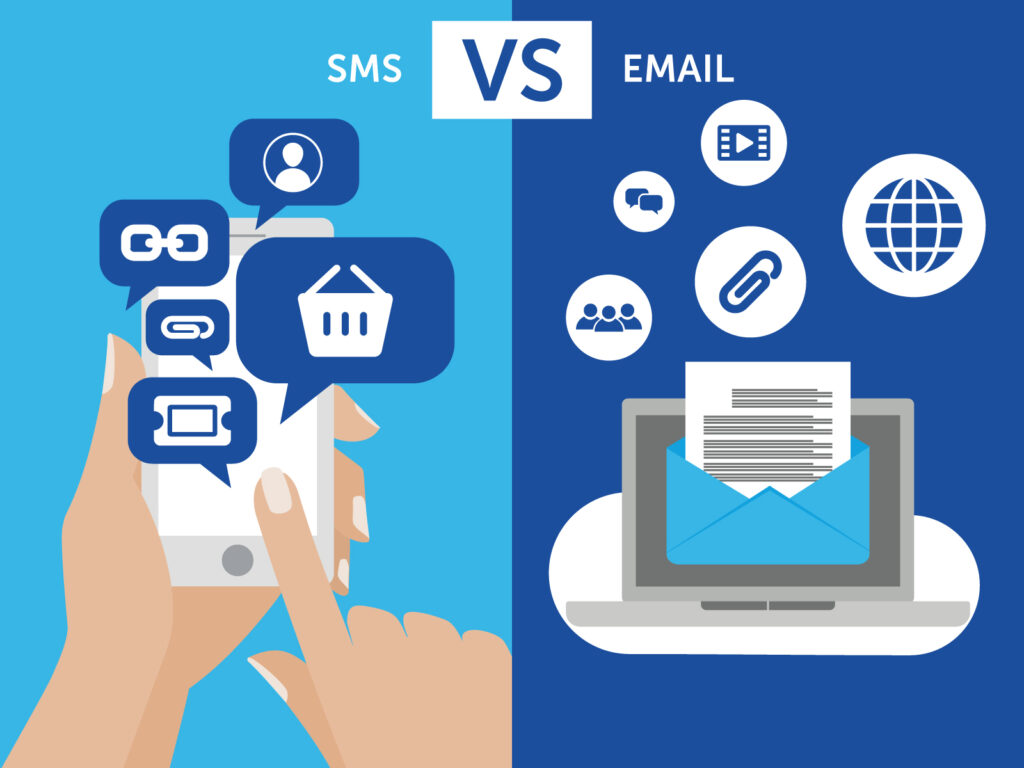 SMS vs. Email Marketing
‍
Email marketing has indeed existed for a much longer period than SMS marketing. In the last few years, we have seen the rise of mobile phones. They are portable and more convenient than traditional devices like personal computers.
‍
The world has gone mobile, and businesses cannot afford to miss such an opportunity. More people have access to mobile phones, resulting in the evolution of new communication channels like SMS or Short Message Service.
‍
There are pros and cons associated with all marketing channels, be it SMS or email. But, how does one decide where to start? Should you reallocate your marketing funds to SMS marketing? Is an omnichannel approach that creates synergies across channels the best way to go about it? How do you ensure you get the maximum returns possible for your advertising in a limited resource setting through either SMS or email marketing? You do not need to worry if you don't have answers to these questions yet.
‍
The choice of marketing channel to use significantly impacts the open rates, impressions, clicks, and subsequent conversions for the campaign.
‍
In this article, we will explore and compare email marketing v/s SMS marketing to decide which one will get better results in 2022.
‍
Comparison between sms v/s email marketing
‍
You should try to have an integrated marketing approach wherein you use different channels to propagate the same message consistently.
‍
Several important factors must be explored while comparing email marketing v/s SMS marketing. Let us discuss some of them in detail: 
‍
SMS marketing v/s email marketing open rates
‍
SMS, as a channel, has an impressive open rate of over 95% for most industries. Sometimes, it can go as high as 98% – 100%.
On the other hand, email has an open rate ranging between 15% and 25%, depending upon several factors.
SMS marketing open rate is the clear winner here.
‍
Deliverability
‍
Email marketing has a problem if not done correctly. Most promotional emails from various brands land up in the spam folder and are never read.
On the other hand, most SMS campaigns rank higher on deliverability than emails.
Need help with email marketing? Read Email Marketing Made Easy to get started.
‍
Click-Through Rate
‍
CTR is an important metric in digital marketing that indicates the percentage of people that click on one or more links provided in the campaign to the number of impressions. 
The click-through rate for email marketing campaigns falls between 2% – 5%. SMS has a much higher CTR of over 30%, depending on the type of communication and the industry in which the business operates.
‍
Cost
‍
SMS marketing is more expensive than email marketing if you compare unit costs. In the case of SMS campaigns, the cost varies depending upon the length of the message. One message usually accommodates up to 160 characters.
However, email marketing requires more skills, time, and effort for template creation. A lot of content can be sent in one go with email.
‍
Customization
‍
Email marketing offers a lot of scope for customization and personalization. You can use rich multimedia content like images, videos, CTA buttons, and other elements. You can customize the email marketing campaign to look a certain way on mobile phones and a completely different way on laptops.
‍
On the other hand, SMS marketing is a more straightforward communication tool that is precise, short, and to the point.
‍
When it comes to SMS v/s email marketing, email is the clear winner in the customization category.
‍
Conclusion
‍
SMS and email marketing channels have their individual strengths, but brands cannot afford to lose out on any available track out there. SMS and email marketing needs to be used as a helpful combination to get the job done.
SMS works well with essential and urgent information that needs to reach the maximum number of people on your list, and email works well in sharing long, informative, and rich content that the users may explore.
Send emails to provide details about your products in depth and use SMS to promote something like a single-day sale of 50% off on your products.
ShopAgain offers automation in SMS campaigns with support for images, links, and discount codes. There's no place else that you need to go to for your SMS marketing needs. Start Free Trial
‍
Frequently Asked Questions
‍
Why would you need email marketing over mass text/SMS marketing?
‍
Though text marketing or SMS marketing has become important in the last few years, email marketing still has its perks that simply cannot be ignored.
You cannot send detailed information about your brand and product launches over text marketing. Email also offers a better chance to build a relationship with your customers. This provides them with much-needed information for the customers to convert and leads to increased customer retention and customer lifetime values.
‍
Is SMS marketing effective?
‍
Depending upon the nature of your business and your marketing and communication goals, SMS marketing can be very effective for you.
SMS marketing has an open rate of over 95% for most industries. Your message will reach the desired audience.
You can use SMS marketing to amplify the message you want to propagate while also using channels like email, social media, paid media, blogs, and others.
‍
When should I use email marketing?
‍
Given the choice between SMS v/s email open rates, email marketing should be used when the nature of your communication requires information to be shared with your users in great detail.
Despite having open rates lower than SMS campaigns, email campaigns offer a lot of scope for personalization and customization which creates a great brand impression and also increases customer retention rates.
If you want to work on your customer retention, you should read more about the Top 5 Components of Email Marketing to Increase Customer Retention Rates.
‍
Is email marketing still effective in 2022?
‍
Email marketing is one of the oldest mediums of digital marketing. Despite it being old, it is still absolutely relevant in 2022.
It is much more relevant now than it used to be. Most working professionals state email as their preferred channel of communication. Email is more formal, includes detailed information, and is less intrusive to the end user as compared to other mediums.
Remember to be ethical and always build your email list. Do not buy one.
---