5 Audience Retargeting Strategies for Ecommerce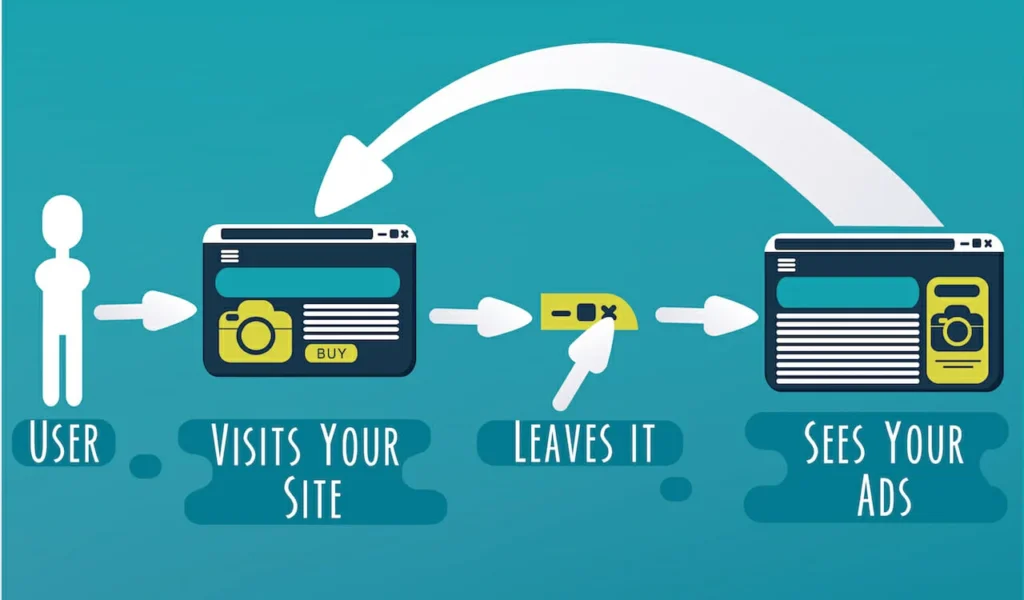 What is retargeting in E-commerce?
‍
'Retargeting' can simply be regarded as one of the most powerful strategies for ecommerce companies to help attract and retain existing customers. Broadly speaking, most of the customer acquisition marketing activities can be covered under two main headers:
‍
Prospecting and Retargeting
Prospecting is marketing to new users that have never heard of your brand. Retargeting, on the other hand, is marketing to users that know you. They could have visited your website, social media, or other channels. Here, in retargeting, the goal is to find new ways to reach them and bring them back to your site.
‍
Prospecting vs Retargeting- The main difference between prospecting vs retargeting is that prospecting helps to find new audiences to target while retargeting helps re-engaging and retaining existing customers, which leads to better customer relationship management.
‍
‍
Why is retargeting important?
‍
When people visit your website, they usually don't make a purchase. This is because they might not be ready to buy, they could be comparing prices, or they might just be browsing for fun. However, retargeting can help reach these potential customers through ads, emails, and SMS messages instead of trying to find new customers. Retargeting has many advantages, including higher brand awareness and the ability to understand the reason why the customer came to your website in the first place.
‍
Ecommerce remarketing can be as simple as reminding customers about your company or offering them a deal to entice them to come back. The main goal of retargeting is to bring in the customers who were close to making a purchase but didn't convert. This approach can be more effective than trying to bring in completely new customers because they are already familiar with your brand. By using retargeting, you can reach potential customers who might be more likely to make a purchase because they have already shown interest in your products or services.
Prospecting feeds retargeting. The cost per acquisition is lower for retargeting campaigns as compared to prospecting. You can use Google and Facebook ads to create retargeting campaigns for custom audiences.
‍
‍
Top 5 Audience Retargeting Strategies for eCommerce
‍
You have many potential candidates for retargeting, including everyone who has visited your website or interacted with your brand. However, it's important to be specific about who you want to target. The best retargeting strategies are based on your customer data. To help you identify and attract potential customers for your next retargeting campaign, here are the top 5 ecommerce retargeting strategies:‍
‍
‍
Behavioral Segmentation of Audience to Retarget Existing Customers
‍
Behavioral segmentation involves segmenting your users based on the behavior that they exhibit while they interact with your business. By doing this, you can create personalized ad copy that's more effective than general outreach. To segment your audience, you can analyze their interactions with your site or their shopping behavior. Data is a powerful tool when it comes to identifying your audience. Here are some effective behavioral retargeting strategies for retargeting campaigns:
‍
Segment customers based on URL-based tracking 
‍
URL tracking helps businesses segment retargeting ads based on the pages shoppers visited on their website. For example, if a shopper clicked on a product page, businesses can send them dynamic ads featuring that product or similar products they might be interested in. URL tracking can also help create new audiences for retargeting campaigns based on who visited specific pages on the website.
‍
Segment customers based on their checkout stage
‍
URL tracking can help businesses identify and segment shoppers who abandoned their carts and determine when it happened during the checkout process. For instance, if a shopper abandoned their cart after adding items to it but before entering their payment details, businesses can use retargeting ads to encourage them to complete the purchase. They could offer a discount code or free shipping to incentivize the customer to return to their cart and complete the checkout process.
‍
Another example is when a shopper abandons their cart after viewing a specific product or product category. Businesses can use retargeting ads to showcase related or complementary products to encourage the customer to return and make a purchase.
‍
Segment by customer type based on buying behavior
‍
To better understand how shoppers interact with your site, you can segment them based on their customer journey. Here are some ways to segment shoppers further:
Segment shoppers by dividing them into first-time and returning customers:
Target first-time customers with discounts and free shipping codes to encourage them to try your brand.
Invite returning customers to join a loyalty program where they can find incentives for continuing to shop.
Use personalized ads to thank returning customers for their loyalty.
‍
‍
Segment shoppers based on whether they are current or dormant customers:
Create personalized ads for dormant customers that entice them to see new products.
Change the messaging in ads depending on whether the shopper is a regular or someone who hasn't visited in a while.
Quickly create a new audience by retargeting dormant or returning customers who have given you an email address.
‍
‍
 Differentiate between before purchase and after purchase.:
Design ads that encourage customers to complete their purchase and incentivize them to not abandon their cart.
Direct new/returning customers to loyalty programs or email newsletters after a purchase.
Segment shoppers is based on their seasonal vs. year-round purchasing habits:
Show customers seasonal products they purchased before and other similar products in ads.
Use carousel ads to showcase multiple products.
Repeat this process for the seasonal items you sell during the year.
In summary, by further segmenting shoppers based on their customer journey, businesses can use personalized ads to encourage customers to try their brand, see new products, complete their purchase, and return for future purchases. Retargeting dormant or returning customers who have given an email address is also a useful way to reach out to specific segments.
‍
‍
Make personalized ads 
After identifying different segments, the next step is to create personalized retargeting ads that appeal to each shopper individually. With the information collected, businesses can understand their potential customers and why they might want to shop with them.
Using this data, businesses can create targeted ads and show product recommendations that are most relevant to each shopper's needs. For example, if a shopper has shown interest in a specific product, the personalized ads should showcase that product and include relevant reviews or updates on price drops.
Personalized ads are important because they remind potential customers that the business has what they're looking for. People are busy, and personalized ads help businesses to stand out and catch their attention. By showing shoppers what they're interested in, businesses can increase their chances of making a sale.
Also read for Facebook retargeting strategy: Facebook Retargeting: 6 Killer Strategies for Ecommerce
‍
Write convincing ad copy 
Every day, people with internet access see many ads. To reach them, businesses need to make their ads stand out by creating interesting and convincing ad copy. The ad copy should convince shoppers to click the link and return to their cart. If businesses suspect that shoppers abandoned their product for a specific reason, such as expensive shipping or a product being out of stock, the ad can address and alleviate those concerns.
One effective way to create compelling ad copy is to pair a strong message with incentives. By reminding customers that they don't want to miss out on the product and offering a discount code, businesses can create an offer that customers can't refuse. This can help to bring shoppers back and encourage them to take action.
In conclusion, to cut through the noise of daily ads and stand out, businesses need to create interesting and convincing ad copy. Addressing any concerns shoppers may have and pairing a strong message with incentives, such as a discount code, can be an effective way to bring shoppers back and encourage them to make a purchase.
‍
‍
Encourage existing customers to purchase additional products
Acquiring a new customer can cost between six to seven times more than retaining an existing one. Happy customers mean more revenue opportunities. For example, a customer who bought a coffee table may also need a sofa, and businesses can use their data to retarget them for their next purchase.
By retargeting existing customers, businesses can suggest products that are similar to what they've already purchased or complement their past purchases. This is known as cross-selling to existing customers. Retargeting ads help to keep a business top-of-mind when customers think about products like theirs. Businesses can use retargeting to remind customers why they love their brand and how their offerings are better than the competition.
In conclusion, businesses can use retargeting to suggest products to their existing customers and cross-sell to them. By keeping their brand top-of-mind and reminding customers why they love their brand, businesses can increase their revenue opportunities and retain their customers. Retargeting can be a powerful tool for reminding customers about a business's offerings and encouraging them to make another purchase.
‍
‍
Email retargeting
Email retargeting is a great complement to other retargeting strategies. Businesses can use it to reach out to potential customers who visited their website but didn't make a purchase, customers who abandoned their shopping carts, and inactive customers. AdRoll offers customizable email templates for businesses to use in their email retargeting campaigns.
Personalizing email campaigns can be more effective than advertising because businesses have more space to craft a detailed message. However, email retargeting can only reach customers on the subscriber list, so businesses should make sure to capture the contact information of potential customers and keep subscriber lists up-to-date for maximum success.
Combining email retargeting with other best remarketing strategies for ecommerce, such as ads, can be even more effective. Customers who see both emails and ads from a brand are twice as likely to convert.
In conclusion, email retargeting can be a powerful tool for reaching potential customers and retaining existing ones. By personalizing email campaigns and keeping subscriber lists up-to-date, businesses can maximize their success. Combining email retargeting with other retargeting strategies can be even more effective in driving conversions.
‍
Additional Tips for Success in Long Run
‍
By now you understand why it is important not just to target cold leads via prospecting campaigns but also to give special attention to people that already know your brand i.e retargeting existing customers.
ShopAgain uses an omnichannel marketing strategy that lets you combine email and SMS retargeting channels with the audience sync for Google and Facebook. This makes your job much easier to retarget existing customers. Start Free Trial
‍
‍
Frequently Asked Questions
‍
What is ecommerce retargeting?
Ecommerce retargeting is a digital marketing strategy that aims to bring back potential customers to an online store who have shown interest in a product or service but did not make a purchase. This strategy uses targeted ads, emails, and other tools to encourage these potential customers to revisit the website and complete a purchase.
Why is retargeting important?
Retargeting is important because most of the users might not get converted in the first interaction with your brand. It is important to present your offerings to them again. This could be done via ads, emails, SMS, push notifications, or other relevant channels. Retargeting effectively positions your brand at the top of the audience's mind.
Also read for email retargeting strategy: Email Marketing Made Easy
‍
How do you measure retargeting effectiveness for your eCommerce store?
The effectiveness of your retargeting can be measured by studying important metrics like
Cost
Impressions
Clicks
Conversions
Customer Lifetime Value
‍
---