Email Marketing Laws You Need be Aware of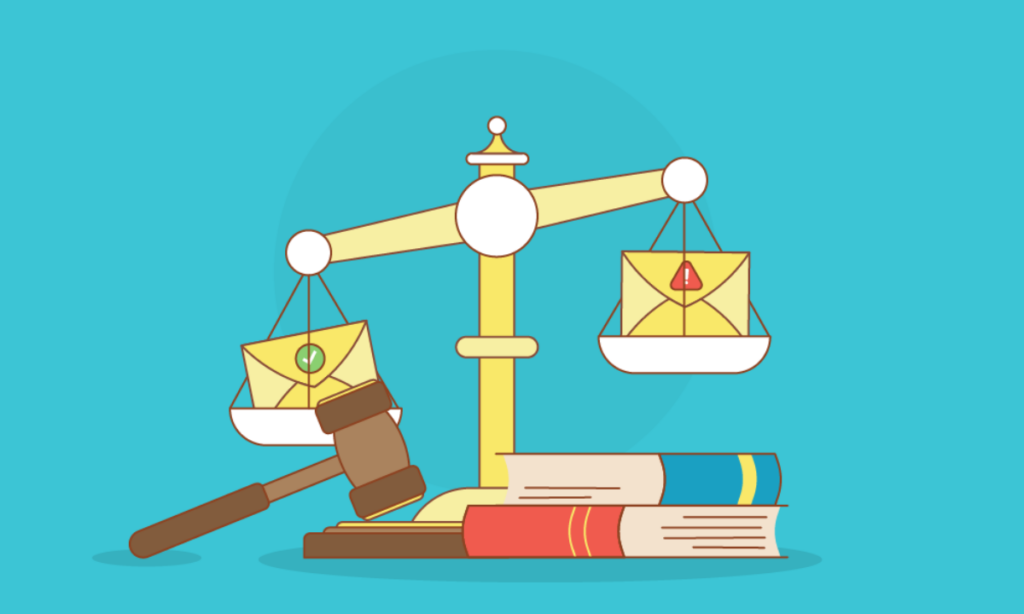 A Quick Guide to Email Marketing Laws and Regulations
‍
Email marketing has become tremendously popular these days because of its ability to retain high-quality leads and conversions. Getting started with email marketing is exceptionally easy and agile. You can easily set up campaigns and start marketing your products and services with an array of efficient tools. 
Your Guide to Understanding Email Laws and Regulations
Before getting your hands dirty with email marketing, it's essential to understand the email marketing laws and regulations so that, even unintentionally, you don't break any. Are you confused about where to reach out to know the standard email marketing laws and regulations? Well, you have already landed on the correct page – this guide introduces you to the must-adhere email marketing laws and regulations in 2022. Read on and learn how to set up legitimate email marketing campaigns!
GDPR Regulation for Email Marketing Laws and Regulations
When it comes to email marketing laws and regulations, General Data Protection Regulation (GDPR) is a must-adhere. GDPR refers to a European privacy law effective from 25th May 2018. The law regulates the processing, use, and collection of personal information of European Union individuals. These rule sets are designed to prevent the misuse of personal data. 
As the governing guidelines for using and collecting email addresses, GDPR leaves solid implications for email marketing campaigns. GDPR boasts seven key principles. The European defines personal data as any information which relates to any individual. It may include their public, private, or professional life information like – 
Picture
Bank details
Email address
Medical information
Name
Social media posts 
Device IP address 
The 7 GDPR principles for legit processing the said personal data involve – 
Fairness, lawfulness, and transparency
Data minimization
Storage limitation
Purpose limitation 
Accuracy 
Confidentiality 
Integrity and accountability 
How can GDPR impact email marketing campaigns
According to GDPR, email marketers should essentially collect data with freely given, specific, unambiguous, and informed consent. Before starting an email marketing campaign, you should consider updated practices like –
Availability of the proof of consent storing systems. 
The implementation of new customer permission rules
Designing a procedure that lets consumers ask whether their PI has been removed or not
GDPR for email marketing laws and regulations is applicable for both B2C and B2B businesses. Besides, every GDPR-compliant email marketing campaign should be transparent about the data they are using. The non-compliance with GDPR may lead to severe consequences like a massive fine of up to 20 million pounds or 4% of the business's global annual revenue, whichever is higher.
The implication of the Can-Spam Act
The Can-Spam Act for email marketing law and regulations, is a law that fixes the guidelines for commercial emails. Besides, it establishes requirements for commercial messages. It also gives recipients the right to stop you from emailing them. Unlike its name, the Can-Spam Act is not only limited to bulk emails. It also covers commercial text messages. The violation of the Can-Spam Act may lead to a penalty of around 38861 pounds. The primary requirements of Can-Spam for email marketing laws and regulations include the following – 
Deceptive subject lines can't be used 
Misleading or false header information is prohibited 
Opt-out requests should be prompt 
Recipients should be clear about the opt-out process
Recipients should easily identify the message as an ad 
What others are doing on the marketers' behalf should be monitored 
Recipients should know about the location of the marketer 
How to run an email campaign abiding by the Email Marketing Laws and Regulations
Now that you know the fundamental guidelines of email marketing, here's how you can design lawful email marketing campaigns. 
Know who you are emailing
Granted, with email marketing, you can get in touch with anyone worldwide. However, it's essential to remember that what's legal in your country may not be legal elsewhere. Thus, you should consider abiding by various international email marketing laws and regulations, if you are not sending country-specific emails.
‍
For example, if you send emails to Canadian people, you should check for CASL. For European countries, check for GDPR, and for Australia, consider the Spam Act 2003. In a one-liner, ensure that you comply with all anti-spam laws while sending emails to your target audience. 
Store Customer Consent
Storing customer consent lets you enjoy the benefits of email marketing and abide by the email marketing laws and regulations flawlessly. Remember, consent does not refer to inactivity or silence. Make sure that the support you are storing contains the details of what you shared with your customer, what they consented to, and when and how they gave the consent. 
Avoid email lists
According to the law, you can buy email lists; however, you must retain particular consent from people on the list to email them. Since this makes the process tricky, it's better to avoid email lists. Instead, go for collecting leads and subscribers using your website or other outreaching methods. 
Always opt-in
Every international email marketing law and regulations asks you to provide your subscribers with an alternative to unsubscribing your emails. Make sure you respect your customer's wishes by keeping the opt-out simple. Typically, contemporary email automation tools come with an in-built opt-out mechanism. If you are not using such tools, you can add an unsubscribe link to your emails manually. 
Keep Opt-out Option
Every anti-spam law except the US Can-Spam requires you opt-in your leads or subscribers. So, even if you don't find it necessary, look for permission before starting to send emails. 
Identify The Message As An Ad
Never mislead your recipients! Your subject line should be very transparent and clearly tell that it's a promotional email. 
Watch out for Imposters
If anyone else is shouldering the responsibility of email marketing for your organization, make sure you keep an eye on their activities if they are abiding by the email marketing laws and regulations. Remember, at the end of the day, if anything goes wrong, they won't be legally responsible, and you will be the one who has to pay off the penalties. 
Summing it all up
In a nutshell, it's worth remembering that your freedom should not obstruct others' freedom. To maintain this decency and integrity, governments from different corners of the world have enforced the email marketing laws and regulations. They are designed to prevent common people from data and privacy breaches.
‍
Thus, it's fair if your advertising methodology does not harm anyone's privacy. So, by complying with these email marketing laws and regulations, you agree to maintain this fairness and legitimacy, which allows you to develop a bond of mutual respect between your customers and your organization. 
Frequently Asked Questions
‍
What are the email marketing laws and regulations?
Email marketing laws and regulations stipulate that marketers don't include misleading information. Besides, they ensure data and privacy security. Email marketing laws and regulations vary from one country to another. Some of the most known are GDPR, Can-Spam, CASL, etc. 
What are three important points to remember in an email marketing campaign?
In email marketing campaigns, you should always tell recipients where you are located, leave them with opt-out options, and prevent yourself from using deceptive subject lines. 
What are the important criteria for ensuring your email marketing?
To ensure legit email marketing, you should abide by the standard email marketing regulations. Besides, you should draft emails with transparent subject lines, let your subscribers unsubscribe when they wish, and be honest about your services and products. There should be nothing that can mislead your recipients. 
---