Getting High Traffic but No Sales? Know the Reasons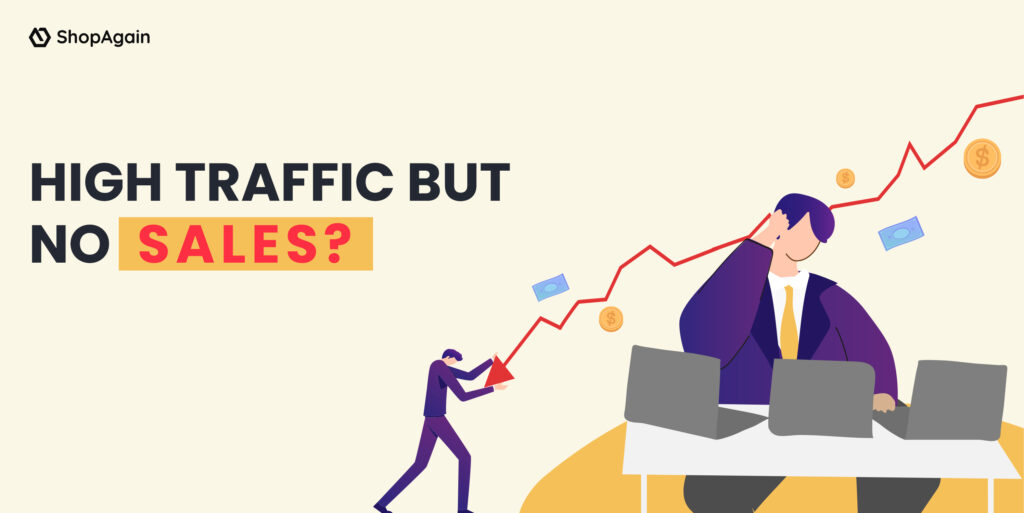 Why is your eCommerce store not getting sales?
Why is your eCommerce site not making any sales? What could you possibly do to change this?
Being an entrepreneur is exciting, but it can be frustrating when your websites get traffic, but no sales. What this implies is that you're doing everything right in the ads department, but you are failing to make an impression that brings about sales. 
‍
This blog talks about the 10 reasons why your eCommerce store is not making higher sales. 
‍
10 Reasons Why Your eCommerce Store Isn't Selling
‍
Poor Website Design
You could be selling the cure to the common cold, but if you're doing it on a website that has a poor design, you will not make many sales. Don't encourage the implementation of bad graphics and UI/UX. 
You need to ask yourself whether your online store looks neat and professional. If it were a random store you just happened to come across, would you buy from it? You need to evaluate your store. Take a step back and look at the website with a neutral eye. 
You could use a highly-rated store theme that is freely available online or could hire a UI/UX expert who could overhaul your store's design to make it one that is sales-optimized. 
‍
Poor-Quality Images
A picture is worth a thousand words, and a poor-quality picture just does not cut it in the world of eCommerce. 
Good-quality images prevent a store from looking fake or spammy. They also decrease the bounce rate. Photos are a replacement for physically inspecting items in a brick-and-mortar store. The goal of each image is to convince the visitor to make a purchase. High-quality images are key, and they may slow down your website, but to avoid that from happening, you could use an image optimizer that reduces the size of an image without compromising its quality. 
‍
If you want to know more about designing your website, read about above-the-fold content here. 
‍
Lack of Trust Factors
The online world has too many scammers. If you do not wish to come across as one of them, you need trust badges on your website. These are badges that speak about the authenticity of your products. They address any concerns a potential customer may have about the legitimacy and authenticity of your website.
The following is a list of must-have security badges for your store:
‍
Secure Checkout:
Do you offer a secure checkout? Are the buyer's card information and identity protected? If so, let them know about it. 
‍
Easy Returns:
You should offer a money-back guarantee and easy returns if a product is not liked by the customer, or if it reaches them in a damaged condition. 
‍
Accepted Payment Methods:
Symbols like Visa or Mastercard are so trusted worldwide that they instantly boost your trust ratings. 
‍
Uninspiring Product Descriptions
What makes your products stand out? What makes them better or different compared to what the others are offering? You need to let potential customers know about it through the product descriptions. 
Focus on grammar, spelling, and syntax. Clearly list out the benefits of using the product, the components it is made of, and why it should appeal to the customer. 
A product description does not need to be long or detailed- it needs to be accurate and articulate. 
Make sure you use sensory words to describe how a product looks, feels, smells, or sounds, if applicable. 
‍
Unclear Return Policies
What if your product is not liked? What if it reached the buyer in a damaged condition?
Returns are an unavoidable possibility for any eCommerce store. You need to offer your customers easy returns. This includes free shipping for returns and an easy-to-understand return policy that makes shoppers feel confident about making a purchase from you. Present the return policy in simple and easy-to-understand words, make sure that it is fair to the shopper, and that all the concerns of the shopper are addressed. 
‍
Hard-to-Reach Customer Service
All traffic but no sales means that visitors need some assistance before they make a purchase. This also means that you will need a readily available customer service center that can help visitors with their shopping needs. Consider adding a live chat function to your website to make a visitor's life easier. Phone support provides answers, but the queues are long and not exciting at all. A live chat function is more reliable, and you could incorporate the use of chatbots as well. 
‍
Unclear CTAs
What do you want the user to do once they are on your website? Do you want them to make a purchase? Avail of a discount? Close the window and never come back?
An unclear CTA can result in lost sales. 
CTAs need to be highly visible and to the point. They should answer the questions that are asked by the visitor. Striking colors, large text, and clear language make a CTA stand out. 
‍
Related: Inspiring E-commerce Call-to-Action Phrases and Why They Work
‍
Complicated Checkout Process
A lot of carts are abandoned because of a complicated checkout process. It does not have to be difficult. The process should be clear and simple. If the customer has gotten as far as adding products to their cart, why do you want to delay the sale by introducing a long and complicated checkout process? The longer it takes and the more the guest has to think about it, the less likely you are to make a sale. Speaking of guests, don't forget to include a guest checkout option- not everyone wants to sign up and become a member. 
‍
Lack of Optimization
You need to optimize your store for sales, not just high traffic. 
Keeping this in mind, your store should deliver what it promises in the ads run by you. Use the right keyword matching to keep your visitors engaged throughout the purchase process. When it comes to SEO, your focus should be on keywords with the right intent. Keep in mind that this is a marathon, not a sprint. You have to be patient and need to follow all the steps to optimize your store. 
‍
Targeting a Broad Audience
If your product does not matter to a broad audience, targeting them will yield nothing. You need to narrow down your target audience to the one that actually matters. For this, you need to be segmenting your audience and reaching out to lookalike audiences. If you are building an audience from scratch, do some research. Use forms and questionnaires to determine who your audience is. Use the information collected to target a specific audience that responds positively to your ads. This will reduce the ad spend and increase the response. 
‍
Skyrocket Your Sales Today With ShopAgain
ShopAgain helps you segment your audience and target them with personalized content that leads to increased sales. 
Start the 14-day free trial today!
‍
Frequently Asked Questions
‍
Why do I have traffic but no sales?
Ads generate traffic, but sales are generated by the right content, CTAs, and optimized websites. You need to make sure that you are giving the visitor exactly what they are looking for and what you claimed to provide in your ads. 
‍
Why do Shopify stores get traffic but no sales?
This is because the stores have great ad spending, but do not come through on the promises they make in these ads. Websites should sell what the ads claim.
‍
---