Google Ads vs Email Marketing | Which One Should You Pick?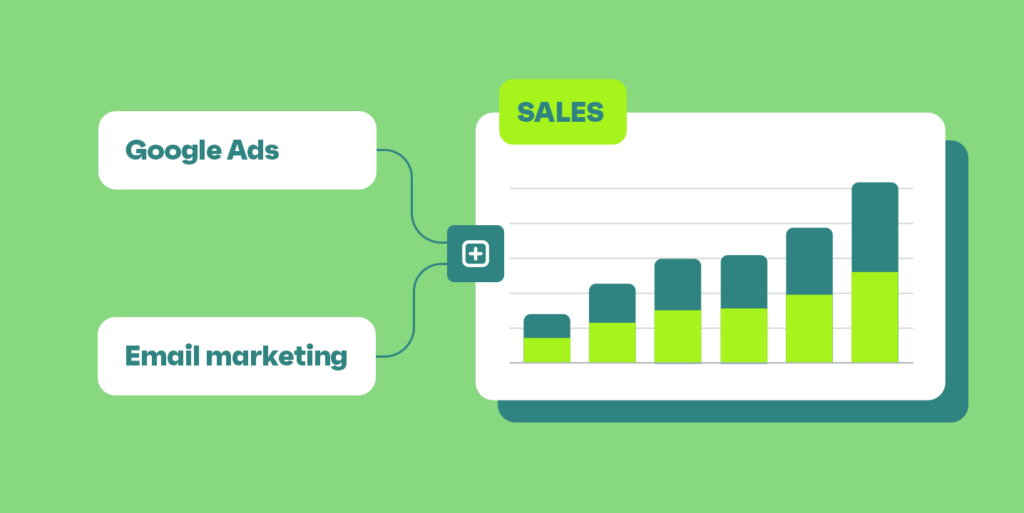 Everything You Should Know About Google Ads vs Email Marketing
‍
Business owners are often in two minds about the channel they should spend more energy and money on, Google Ads or email marketing. There is no right or wrong answer in this case. Depending on the needs of your business, you will have to go for one or the other, or in some cases, both.
‍
Here's a guide on Google Ads and email marketing to help you decide what works best for you and your business. 
How Does Email Marketing Work?
‍
Let's cover email marketing first. It is the science and the art of marketing your products and services through emails. As a good practice, these emails are always sent to consenting recipients, not those who have not willingly subscribed to your mailing list.
‍
Email marketing works through automation and promotional, one-off campaigns that are based on specific requirements or triggers. 
Pros of Email Marketing
High Open Rate As Well As Cost Effective
‍
Email marketing is cost-effective and yields high open rates. Forget about advertising fees, printing costs, and even media-space charges. Email marketing is cheap and generates results. It boasts a 25%-35% open rate. With everyone carrying mobile devices these days, checking emails has become easier and faster. This is a channel that marketers want to take advantage of. Some question the relevance of communication by email in the coming years but let us put your mind at ease by saying that email marketing will not be a channel that disappears any time soon. 
Measurable
‍
Email marketing is data-based; therefore, its growth and success are measurable. Like any web analytics reporter, good email marketing software will also provide you with the numbers. These numbers will also allow you to make predictions and determine any next steps in a campaign. 
Personalization & Segmentation
‍
Email marketing makes it easy for you to segment your audience and cater to them based on their needs and wants. Segmentation lets marketers divide their email lists into sections based on the audience's attributes.
‍
Personalization makes marketing effective. Sending emails that are irrelevant to your client's needs wastes time, energy, and data. The emails that will work in your favor are the personalized, segmented ones.
Cons of Email Marketing

‍
Undelivered Emails & Spam
‍
Commercial emails end up disturbing the recipients. One of the major cons of email marketing is that being marked as spam renders you liable to a falling domain reputation. This is not good for you as a seller. Sending messages to those, not the intended recipients leads to them marking your messages as trash, spam, or blocking you entirely. Following security measures and best practices when sending out emails are encouraged. 
Design Problems
‍
Users access their emails on mobile phones, tablets, and computers. Accounting for how the email will be displayed across various devices is mistake marketers often make. Using software that makes this possible is an option; other than that, copywriters and designers must go over the templates on various devices and manually make sure that all their emails are displayed correctly across all devices. They also need to be sure that the emails they are creating are not image-loaded because downloading these files is difficult in most cases. 
Requires Some Copywriting Skills
‍
Email marketing KPIs such as open rates, click-through rates, and conversions depend on what you have written in your subject lines, preheader texts, and the email body. This requires copywriting skills that novice marketers may have yet to gain. For this, one would have to hire a copywriter or use software that writes desirable copies. 
How Does Google Ads Work?
‍
When a person runs a search for your product or service, Google shows them an advertisement across Google Search, Maps, and Google's partner sites. This system works on PPC, that is, pay-per-click. You have to pay for every result that these ads generate, such as people clicking to call your business, going to your website, or searching for directions to your physical store's location.
‍
Pros of Google Ads

‍
Creating Customized Ad Campaigns for Target Audience
‍
You can show your ad campaigns to audiences with similar interests instead of targeting the masses in general. Google offers different types of targeting, such as geographic, interest-based, or even demographic. This generates better results and leads because you target consumers who actually want your product or service. This is also cheaper compared to generalized advertising.
‍
Ability to Test & Experiment With Budget Flexibility
‍
There is no set pricing when it comes to Google Ads. You pay for what you want. With this flexibility, it is easier to budget your ad spend. 
You get to decide how much you spend when you spend it, and on which ad you spend it. 
‍
Measure Your Growth
‍
Google tracks your ads' activity, so you will be notified if someone clicks on it. Metrics such as clicks, purchases, or phone calls are recorded for you to study and determine the next course of action best for your business. 
Cons of Google Ads
Can Be Expensive
‍
Google Ads is not for the faint of heart and the light of budget. Compared to email marketing, Google Ads costs much more.
‍
It is easy to not invest in advertising on Google because of how much it breaks one's bank.
Keyword Intent
‍
For those with little to no knowledge about keywords in searches, making the right Google ad that will generate results becomes an issue. You must understand how people search for you to display exactly what they want. You may have the best product in the market, but if it does not show up when people search for it, then there is no point in spending money on ads on Google. 
Time Investment
‍
Google Ads is fairly time-consuming. The data derived from it holds value, but it takes too long for it to make sense to you unless you keep a close eye on it. By that time, you will have spent a great deal of money on Google Ads. So, it is important to study the campaign data thoroughly to determine what is working and what needs to be changed. 
‍
Is Combining Google Ads With Email Marketing a Good Idea?
‍
It absolutely is a good idea. When it comes to online marketing, the more laterally you expand and diversify, the better it is for your store. You don't sell on only one platform, right? Most of you must be selling your products on Shopify, WooCommerce, Amazon, and on your brand's website, at least.
Bring that practice into advertising as well. Potential customers use different channels. Do not restrict yourself to only one. Email and Google Ads working alongside each other yield better results in the form of higher sales. 
The Conjunction of Two With ShopAgain
‍
As stated above, email marketing and Google Ads work best in a partnership. One should not be used without the other unless there is a budget constraint that drives you to choose only one. Using both together generates higher sales, and ShopAgain is the perfect platform you should use for this. With targeted retention marketing campaigns A/B tested to give the best results, and the audience sync for ads feature to retarget users across different websites, ShopAgain as an online marketing platform is pretty much unbeatable. Start your 14-day free trial today. 
‍
Frequently Asked Questions
Is Google Ads better than email marketing?
‍
One is not better than the other. Both yield results in different fields and when used together, can work wonders for your brand's sales. 
‍
What is the difference between ads and marketing emails?
‍
Ads include advertising your brand, products, goods, and services over different channels, both online and offline using digital and print media. Marketing emails are a way in which you may use email to exhibit what you have to offer.
---