High-Converting Landing Pages for Ecommerce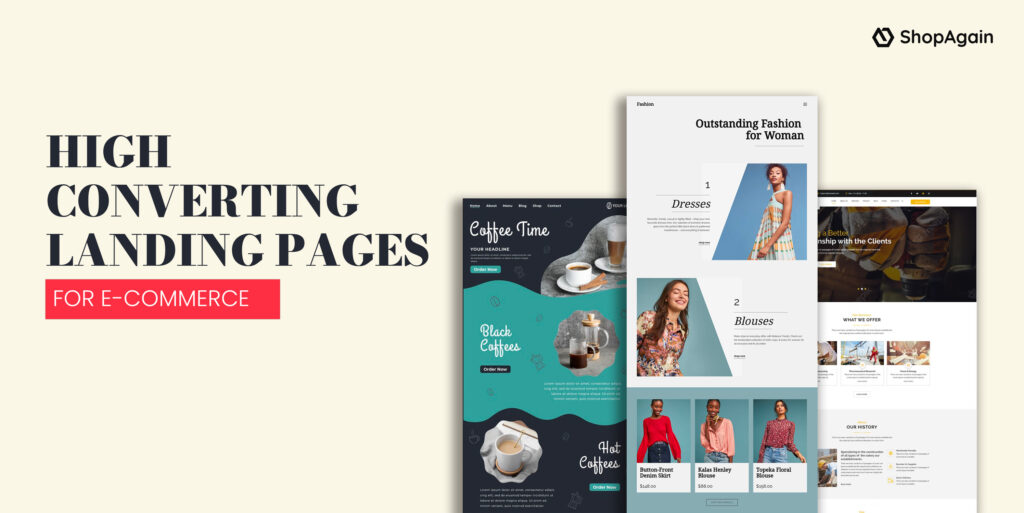 What is an eCommerce Landing Page?
A stand-alone webpage, created specifically for marketing purposes, is known as an eCommerce landing page. This is the page that a visitor "lands" on when they click an ad or email link that leads them to it. 
Landing pages are designed keeping in mind one goal, and in the case of eCommerce landing pages, the goal is to increase conversions. The page is personalized according to the buyer and includes a simple, straightforward CTA. 
These pages also include engaging content, social proof in the form of text or video testimonials and reviews, and high-quality images. 
‍
The Importance of eCommerce Landing Pages
An eCommerce landing page serves as the link between the first time the visitor sees your ads and the final act of making a purchase. 
Here are 4 reasons why eCommerce landing pages are important for your overall marketing strategy:
‍
For Driving Higher ROI
If you spending so much time and effort on making and launching the best advertisements for your eCommerce website, but no one landing on the website is actually making a purchase, your efforts will go to waste. Leads need to convert. 
Visitors who drop by your website after seeing an ad have high expectations. Their intent is set and they are looking to click on something related to their search. 
If someone has searched for winter boots and clicked on an ad that claims to be for winter boots but opens a page that has nothing but summer slippers, the visitor will likely bounce. 
If the ad takes them to a relevant page with a compelling CTA, you won't lose a sale. 
So, basically, your ad budget will have been money well spent. 
‍
For Testing
Landing pages are a great way to test what works for your audience and what does not. You could use them to A/B test and compare what CTA buttons are the most effective, what colors appeal to the users, and which products are the most purchased in a certain layout. 
The data gathered from this can be applied to other marketing efforts. 
If there is a landing page that has a high bounce rate, then one of two things will have to be changed- either the landing page because it is not true to the PPC campaign, or the PPC campaign itself. 
‍
For Targeting Specific Customer Segments
Personalized landing pages that fit various customer segments can increase your revenue. Aesthetics, value propositions, CTA, etc. can all be customized to appeal to segments. 
A landing page intended for a target audience of those between the ages of 18 and 35 will have a different tone of voice than that of one targeting people above 60 years of age. 
The design and copy should fit the buyer's persona. 
The better you connect with your target audience, the more likely are they to click on the CTA and convert to paying customers. 
‍
Types of eCommerce Landing Pages
Personalized landing pages that match the visitor's interest are a must. Along with that, they should also have a place right where the visitor is in the sales funnel. 
This means that you need to use different landing pages for awareness, re-marketing, cross-selling/upselling, and re-engagement. Here, the design, layout, and CTAs will vary.
‍
Top of Funnel
These landing pages introduce your website to new visitors. 
Mostly used for lookalike campaigns with audiences similar to your existing customers, these pages are used to introduce your brand to visitors. 
It should talk about your brand's story, why you exist, the solutions you offer to problems faced by those visiting your website, and social proof to establish credibility. 
At this stage, visitors are not too inclined to buy from you, which is why the CTAs you use should be focused on building a relationship. So, offering them a welcome gift of 10% (or what you are comfortable offering) on their first purchase if they sign up with you is the way to go. 
‍
Mid-Funnel
These landing pages are for those potential customers who have shown an interest in your products but are yet to convert. 
This page is designed for retargeting campaigns in which visitors are familiar with your brand, and need that extra nudge to get them to finish their purchases. 
These landing pages include content around specific products, CTAs with a sense of urgency that help convince visitors to convert, and social proof to show that others who have made similar purchases are happy with their products. 
‍
Bottom-Funnel
These landing pages are specifically designed for those visitors who have abandoned their carts. These pages are mostly for upselling campaigns- visitors are already inclined to make a purchase, and they have given you an opportunity to show them something better than what they originally thought of buying. 
These pages include bundles content ("frequently bought together"), suggestions ("users who bought this also liked that"), and a discount related to abandoned carts, such as lowered or free shipping. 
The CTAs for these landing pages focus on closing the deal. 
‍
Pro Tip: Try upselling first, discounts can always be added in later after A/B testing. 
‍
Post Purchase
How do you keep your customers happy and encourage them to keep coming back to you for more?
Post-purchase landing pages are used to increase retention and customer lifetime value. Since those targeted here are already customers, you do not need to re-introduce your brand. What you need to talk about is loyalty benefits, previews of new collections, early access to sales, exclusive discounts, and customer referral opportunities. 
Basically, give them a reason to stick around. 
‍
E-commerce Landing Pages Best Practices
Here are some eCommerce landing page best practices that you should follow:
‍
Avoid the Clutter
Keep it clean, simple, and straightforward. 
Losing a conversion because a visitor was overwhelmed by too much text or graphics is not a good idea. Make your headlines concise, include a powerful, easily visible CTA, add relevant and high-quality images, and use bullet points for product details. 
Bouncing off your website takes a visitor mere seconds. You want to do your best to make them stay. Keep only want adds value, and avoid the space-filling fluff. 
‍
Add a Clear CTA
How is a visitor to take advantage of what you are offering? For this, you need a clear, concise, and compelling CTA. 
It should be displayed prominently and should be easily accessible. Remember, the landing pages should have no more than one CTA. this gives users only one chance to make a decision, and it makes that decision easier. Use active voice for the button text, incorporate a sense of urgency, and include multiple buttons for a single CTA all across the page, especially once one has scrolled to below-the-fold content. 
‍
Use High-Definition Images
A picture will always be worth a thousand words. This will not change. 
Use high-quality images that match the objective of the landing page. Don't forget to optimize the images for different devices, especially mobile phones or tablets. Images should be clearly visible without the need to scroll. They should fit the screen. 
Images are appealing and they add credibility. Images such as trust badges, testimonials, and endorsements are social proof. 
If you are to use images, use only high-quality ones. Those of poor quality are better left off the landing page. 
‍
Frequently Asked Questions
‍
What are some tips for designing an eCommerce landing page?
Keep it to the point- simple, and concise, with a powerful, visible CTA, and high-quality images. Target the landing page to the segment that visits it. 
‍
Should companies design a landing page for their eCommerce business?
Absolutely, they should. Landing pages, especially well-designed and targeted ones, lead to higher conversions.
‍
---