Here is How You Can Recover Abandoned Carts and Revenue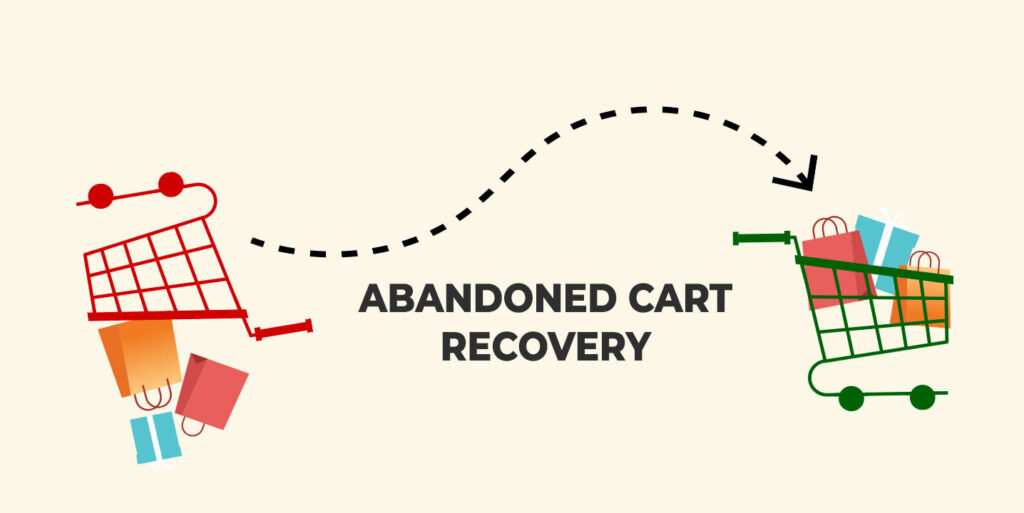 Recovering Abandoned Carts: Why Is It So Crucial?
As store owners, it can be pretty disheartening to see potential shoppers go all the way through the sales funnel only to stop at the moment of checkout and leave their carts right there. You are not the only one facing this issue. The average cart-abandonment rate across industries is a whopping 69.57%. 
It's pretty simple- shoppers on your website who abandoned their carts were inclined to make a purchase, but something must have gotten in the way. What they need is a little nudge, just something that gently shows them the way back to the checkout page.
‍
Ways to Recover Abandoned Cart (or Abandoned Profit)
Abandoned carts = abandoned profits. 
Keeping this in mind, listed below are a few tried and tested ways to recover abandoned carts, and by extension, abandoned profits:
‍
Checkout Optimisations
The most important page of your website is the checkout page. You will need to work toward creating a seamless, hassle-free checkout experience for your visitors. 
For example, if you are a clothing brand, having a size guide on the checkout page itself instead of on a separate page makes it easier for visitors to determine what size they are and make a purchase immediately. What you want to do is reduce the number of clicks and back and forth between pages that it takes to finally buy an item.
‍
Remove Additional Costs
Most shoppers have a budget. They do not appreciate unforeseen expenditures. If the items you display are reflecting prices before taxes are added, only to show the total during checkout, it will not please any potential buyers. Nobody wants to purchase a dress marked at USD 25 only to have to pay USD 25 + taxes + shipping charges. 
Consider offering free shipping and showing prices inclusive of taxes, not exclusive.
‍
Enable Guest Checkouts
For visitors, do not let creating an account get in the way of their making a purchase. Especially for those who want to make a one-time purchase, the process of creating an account seems like a waste of time. This is the second highest reason why potential shoppers do not finish their purchases. 
A guest checkout option is highly recommended. Here, one-time shoppers should be allowed to make purchases. Trust the process. If your products and retention campaigns are good enough, one-time shoppers will become repeat customers.
‍
Keep a Check on Your Website Speed
In the era of super-fast Internet, a slow website is an inconvenience. Studies show that visitors exit websites if the websites do not load in less than three seconds. First impressions last. Statistically speaking, 80% of these potential visitors never return. This is scary for any marketer and business owner. 
Keep an eye on your website speed and make sure your website loads quickly.
‍
Remove Lengthy Forms
If someone is eager to make a purchase, you cannot weigh them down with lengthy forms. All unnecessary details should be excluded. Do not intimidate or overwhelm your visitors by making them fill out lengthy forms. 
Keep it simple and easy. A long, complicated checkout process does not encourage anyone to finish their purchases.
‍
Retargeting Ads
We know that retargeting works. All hope is not lost when a potential customer leaves your online store without making a purchase. Using retargeted ads has proven to be an effective way to bring customers back to your store. 3/4ths of website visitors notice retargeted ads. Considering how most people block irrelevant ads, having 75% of them respond positively to retargeted ads is good news for marketers. Out of these people, over 25% make purchases.
‍
‍
Abandoned Cart Email Reminder
An email campaign designed specifically to remind potential consumers that they have pending purchases is a practice every marketer should incorporate into their email marketing plan. 
Think about it. Why let a potential buyer leave without purchasing some products from you? As stated earlier, those who abandon their carts are inclined to purchase from you, but they need a small nudge, a gentle reminder of sorts that their carts are waiting for them. Offer them a discount, or priority access to upcoming sales. Find ways to make the deal sweeter. 
For this purpose, it is suggested that you use a platform that can automatically send these emails to those who leave their purchases unfinished.
ShopAgain does a marvelous job of it. Start your 14-day free trial here.
‍
To Summarise
Abandoned cart recovery is essential for any online business. As marketers and business owners, it is prudent to indulge in good practices that lower cart abandonment rates. 
It will not only increase your profits but will also show your customers that you truly do care for them and their purchase experience.
‍
---