How To Boost Sales with Ecommerce Personalization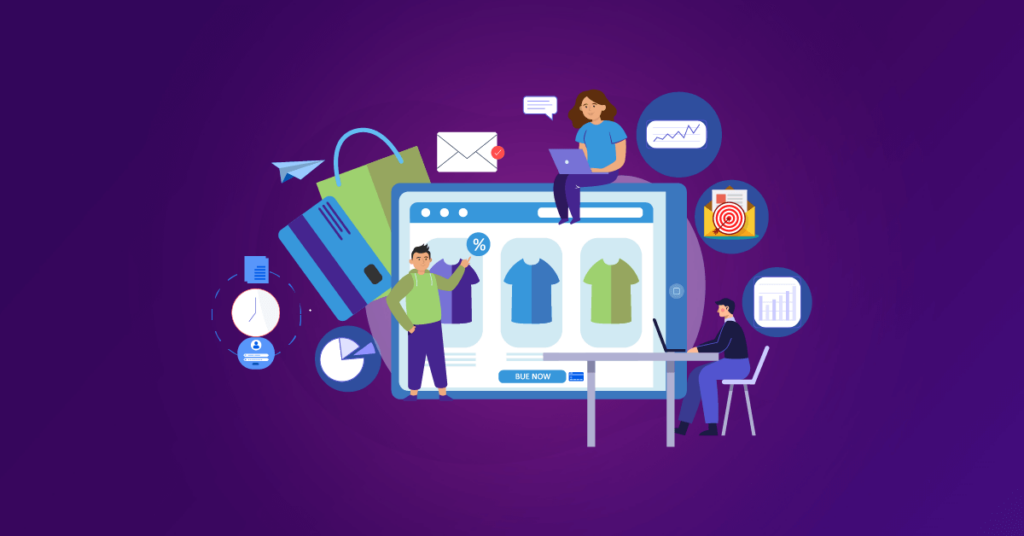 What is Ecommerce Personalization?
‍
Ecommerce personalization helps deliver a personalized experience to the customers or potential customers online. It can be provided based on common characteristics or past behavior of the users.
Online businesses have a lot of meaningful data from their customers nowadays. This can be utilized in understanding user needs and shaping your marketing strategy accordingly. Based on the study of consumer behavior, segmentation can be done, and relevant content can be shown to relevant audiences at the correct times.
You can have the homepage of your website customized for specific segments.
‍
How to Use Personalization in Ecommerce
‍
Each customer is unique in their way. So, the marketing they require to convert into a paid user will be different. This has pushed big brands to use hyper-personalization to tailor their marketing communications to individual customers. Customers are provided with experiences based on their likings and needs.
‍
Segmentation for better personalization
‍
Segmentation refers to dividing the market or audience based on common properties or traits like geography, demography, psychography, and user behavior.
A good segmentation strategy provides room for better personalization of marketing communications. This ensures that only relevant content will be shared with the users based on what they would appreciate.
‍
Trigger-based communication (automation)
‍
Modern marketing allows you to make your communications smarter by triggering them based on user actions. This will enable marketers to customize their offerings based on meaningful information from users. This increases customer engagement and retention rates.
Read about how automation can improve your customer retention rates.
‍
Personalized recommendations
‍
Recommendations based on past purchase behavior can be generated for the users. For example, if a customer recently purchased a television set, they can be shown recommendations for sound bars or external sound systems to complement their purchase. This increases the possibility of upsell and cross-sell.
‍
Benefits of Personalization in Ecommerce
‍
Personalization on the web is everywhere. You might not notice it initially, but it is very much present. It benefits business owners and makes the users' lives more convenient by helping them quickly find what they are looking for.
Here are some other benefits of personalization in e-commerce:
‍
Better Sales Conversions
‍
When the marketing content is customized as per the individual needs of the end-users, it simply increases the possibility of sales conversions. This happens because the customers are not bombarded with unnecessary details and offerings, only what they want to hear about, which results in better customer interaction with the brand.
‍
Improved Brand Engagement
‍
Because the marketing content is targeted as per the individual needs of the users, it improves their engagement with your content and your brand, in general. You can share targeted discounts to specific sets of customers, based on their behavior on your website.
If people engage with your brand for a more extended period, it becomes easier to convert them.
‍
Increased Customer Loyalty
‍
When your content is personalized and customized as per the end user, they become more interested in your brand because you are simply putting in the effort to care about their needs. These customers become your loyal customers. Word of mouth increases your brand's reach substantially while maintaining a high net promoter score (NPS).
‍
Enhanced Customer Experience
‍
Customers that enjoy doing business with you will also put in positive reviews for you, and you can get good user-generated content. They start to think highly of your brand, which leads to customer delight.
If you're feeling lost in planning and executing a marketing strategy for your business, you need not worry anymore.
Start making more money with the future of marketing, ShopAgain, a multi-channel marketing platform that brings in more sales for your business using data-driven strategies. Experience it by starting your free trial today. 
‍
Frequently Asked Questions
‍
What is personalization and customization in eCommerce?
‍
In their primary sense, personalization and customization refer to creating tailor-made brand experiences for your users. The central idea is that every user is unique and should be treated differently.
‍
What are the examples of personalization in online retail?
‍
The simplest example of personalization in online retail is showing products to the end users based on their geographic location. Products in India can be completely different from the ones that the same online retailer sells in Canada.
---