How to Create Lookalike Audiences on Facebook and Google Ads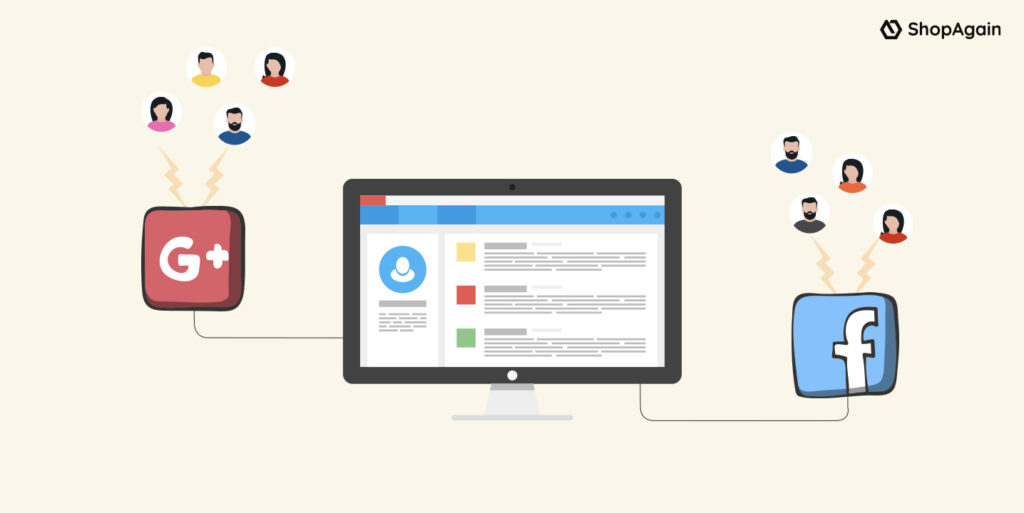 What are Lookalike Audiences?
Lookalike Audiences is a segmentation tool that finds users whose demographics and interests are similar to those of your existing followers across Google and Facebook. On Google, they are known as "similar audiences". It is easy to create and implement these segments, making them powerful marketing assets for finding high-converting users. In simple words, you have customers who share certain interests, traits, and behaviors. Facebook and Google use these to present to you more people from their database who possess these interests, traits, and behaviors, similar to your existing customers. This allows you to target these new potential customers. 
Lookalike audiences are important for you as a marketer because it helps in figuring out the commonalities between your customers. It then uses this data on its trove of customers to find "alike" users you previously would not have been able to reach. This saves you invaluable time, effort, and financial resources that you may now use elsewhere. 
‍
Creating Lookalike Audiences for Facebook Ads
How would you create lookalike audiences for Facebook Ads? All you have to do is trust ShopAgain. The ShopAgain segments created for you are smoothly synced to your Facebook Ads account as custom audiences which results in targeting your marketing efforts on Facebook better. 
It is recommended by Facebook that your segments should have at least 100 if not more customers in them. The larger the sample size, the easier it will be for Facebook to attain a more accurate picture of your audience. This leads to efficient spending instead of firing shots in the dark. 
‍
Creating Lookalike Audiences for Google Ads
The segments created for your store are also dynamically synced to your Google Ads account and can be used as Customer Match audiences. You can target them in Google Search, Display, Video, and Shopping campaigns.
A more personalized ad and targeting experience is provided as a result of this. If you are to provide Google with a customer's email address, it is rather easy for Google to locate that customer across the web and show your ads to them. With Google and Facebook both getting rid of cookies, the way forward is to use retargeting.  
‍
Enhanced Ad Targeting Across Channels
ShopAgain, as a platform, helps enhance ad targeting across channels. This is how we do it:
‍
By Creating Quicker Lookalike Audiences
Use ShopAgain to create better, smarter, quicker lookalike audiences. We use your existing customer data and put it into action by syncing it to Google and Facebook to find you your perfect match!
User behavior, demographics, geography, and actions of your existing customers help us reach subsets of new and important potential customers for you. 
‍
By Retargeting Less-Active Contacts
Increase your reach by retargeting less-active contacts. In marketing, retargeting is less expensive than prospecting as the CPC is lower. This is great for MSMEs with small budgets. We know that retargeting works. It is a reliable, cost-effective way to retain existing customers and acquire those who got away. 
‍
By Reducing Acquisition Cost
Real-time dynamic data upload reduces costs by targeting only those who are not converted instead of targeting existing customers as well. With the use of highly-specific lookalike audiences, the cost of acquisition goes down and the ROAS goes up. 
Pro tip: Retargeting is also effective for those who abandon carts. Lost revenue can be recovered through the use of retargeting. 
‍
Implementing ShopAgain's Powerful Segmentation for Increased Conversions
It is time to go beyond the "everyone in the audience" approach and target specific contacts using eCommerce-focused segmentation. ShopAgain's segments are based on shopping history, customer lifecycle stages, and other important metrics that help in building valuable, highly-converting segments.
Implement this powerful segmentation to increase conversions. 
‍
Frequently Asked Questions
‍
What is a Facebook 1% Lookalike Audience?
Lookalike Audiences by Facebook places visitors that share the most common traits in percentiles. The top 1% is a smaller but more homogeneous audience. A larger percentile, e.g. 10% or 15%, will result in a larger, less homogenous audience.
‍
How many people are needed to create a lookalike audience?
Facebook recommends adding at least 100 people to your sample size to create an effective Lookalike Audience, but the number can be whatever you want. 
‍
Are Lookalike Audiences effective in 2022?
Yes, Lookalike Audiences is still effective in 2022 and will continue to be effective in 2023 as well.
‍
---