Inspiring E-commerce Call to Action Phrases and Why They Work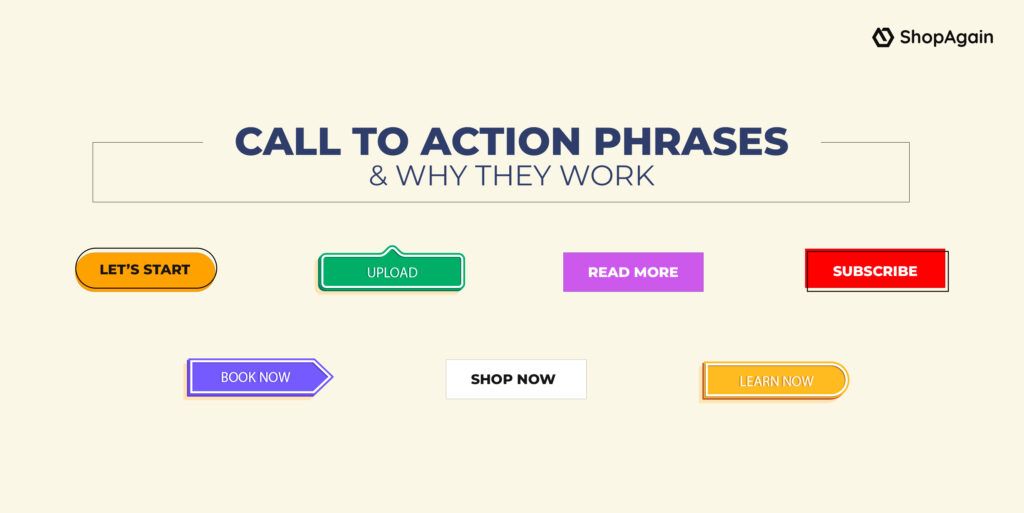 What is a Call to Action?
A call to action or CTA is a phrase or prompt that tells visitors what they should do on how the website and how they should do it- it helps them through the purchase process by gently guiding them along the way. Basically, it's akin to a landing strip that guides a plane, but in this case, it turns a visitor into a customer. 
You must have seen some obvious examples of CTAs like "Buy Now", "Shop Here" or even "Avail Discount". 
‍
Let's now take a look at what makes successful CTAs. 
‍
The Fundamentals of an Effective Call to Action for eCommerce
CTAs may be modified and optimized depending on how they test, but there are some fundamentals to keep in mind while writing those CTAs. 
Some of them are shared below:
‍
Incorporate Urgency
Urgency increases conversion rates. Keeping this in mind, you should know that when shoppers feel that there's a scarcity or limited opportunity in place, they may be inclined to make a purchase. 
You see this on websites and in retail stores all the time. "Sale lasts only till midnight" or "For a limited time only" are the two commonly used phrases. 
‍
Experiment with Colors
There's no color that works best, so it's up to you to ensure that you use colors that resonate with your brand and visitors. 
Depending on your website's palette, use some white or black space around your CTA to make it stand out from the background and show the visitor exactly where they should click. Along with that, don't overwhelm the visitor by making the CTA too colorful, heavily animated, or both. 
‍
Use a Simple Layout
Simplicity is everything. A complex, overdone CTA button is usually not effective. What you need is a button with a border that helps it stand out. The text inside that button should be short, sweet, and to the point. "Buy", "Buy Now", "Sign Up", and "Add to Cart" are the best examples of CTA buttons that lead to fruitful results. 
‍
Link Your Hero Image to the Product
Hero images can be used as a large, very, very visible CTA. You could use them to highlight new collections, discounts, or sales. A study done by Notre Dame shows that out of a carousel of five images, the first one received 84% of all clicks on stores showcasing rotating slideshows.
Just link the hero image to a collection or product it relates to in order to have visitors check out faster. 
‍
Place it Above the Fold
Try to keep everything you deem essential above the fold. "Above the fold" is the space on a webpage that you can see before scrolling down. The moment you scroll down, the content you see is "below the fold" content. 
Grabbing your visitor's attention above the fold increases the chances of a lower bounce rate. Less scrolling means quicker purchasing. If there is a collection that you want to highlight or a new product you are looking to present, keeping it above the fold is recommended. 
‍
For more tips on how to optimize above-the-fold content, read our article here. 
‍
eCommerce Call-to-Action Examples
Here are some examples of eCommerce CTAs that have worked well for brands across the world. 
‍
Free Trial Offer
There's nothing like to opportunity to try a product for free, see if it works for you, and then buy it for full-time use. 
Netflix does it, Headspace does it, and we do it too. 
Free trials make visitors feel comfortable- they know that they are in no rush to make a decision. 
‍
Add to Bag
"Add to Bag" is a classic CTA- simple, direct, and if represented clearly, the way we have discussed earlier in this article, this CTA is effective. 
Having the product price, size information, colors and description near the CTA button is crucial. 
‍
Check Out
This CTA should pop up when a visitor adds a product to their cart. Along with this one, a clearly displayed "Continue Shopping" CTA should also be present. This gives the visitor the choice between checking out or continuing to shop. Both are helpful to the user. 
‍
Shop Now
Basic, simple and direct. This CTA is a no-fuss CTA that is usually placed under a collection being highlighted on the store. 
This CTA tells the visitor exactly what to do. 
‍
Select a Plan
If you are offering multiple plans to choose from, this CTA is the best one to use. Netflix uses it, and so does BestBuy. Even brands that offer easy EMI options for customers use this CTA to highlight their EMI plans. 
‍
How the Right Call-to-Action Can Boost your Sales
70% of small business B2B websites lack good CTAs. If you are one of these websites, you are putting yourself out of business. Less than 50% of the websites with CTA buttons have them clear enough to be visible to the user in 3 seconds or less. 
The right CTA can change the way your business works. It can boost sales, lead generation, and more. For better conversions and more clicks, a good CTA is essential. Hopefully, this guide will help you select one that works for your business. 
‍
Frequently Asked Questions
What is a call to action in eCommerce?
A call to action or CTA is a phrase or prompt that tells visitors what they should do on how the website and how they should do it- it helps them through the purchase process by gently guiding them along the way.
‍
What 3 elements should be in the CTA?
Urgency, clarity, and standing out are the 3 elements that should be incorporated into any CTA.
‍
---