Omnichannel Marketing: Definition, Strategies, and Examples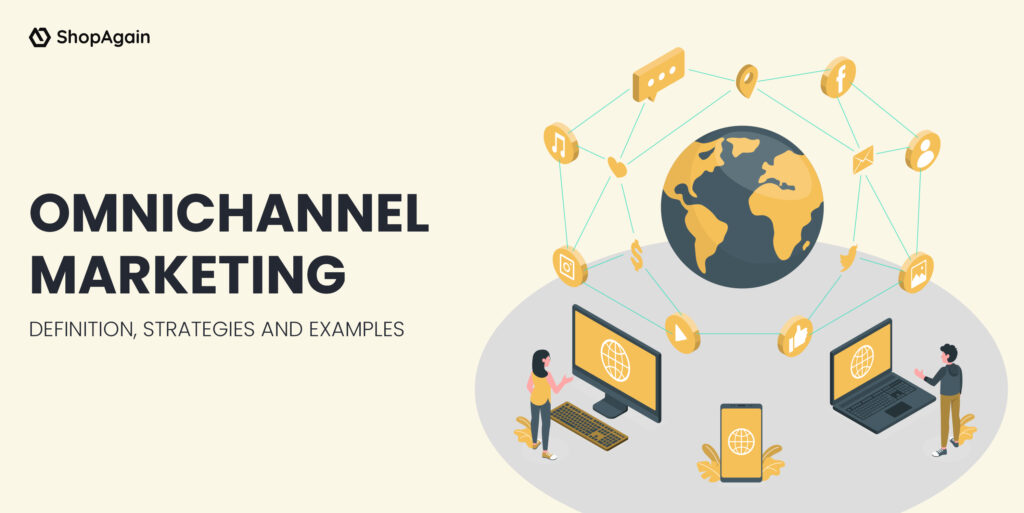 Omnichannel Marketing: Definition, Strategies, and Examples
‍
What is Omnichannel Marketing?
Using all available channels, platforms, and devices to carry out marketing campaigns in order to promote your products and services is known as omnichannel marketing. It's in the name- omni means all, therefore, omnichannel marketing is marketing on all channels. The messaging, visuals, and experience across the channels used should be seamlessly integrated and relevant to the viewer. 
‍
Omnichannel marketing revolves around the customer. It allows marketers to create a customer profile to see how the customers interact with their brand over various channels. This leads marketers to create holistic customer profiles, enabling each channel to work together to create a marketing campaign with a unified message. 
‍
Omnichannel vs Multichannel Marketing
Often used interchangeably, omnichannel and multichannel marketing are different- what you should understand about the two is that the former is customer-centric, as stated above. The latter refers to using more than one channel to market a product. 
‍
‍
‍
‍
‍
In a nutshell, omnichannel marketing is a marketing strategy through which, based on how a customer has interacted with your brand and where they are in the funnel, you formulate a message for them that they will see across the channels through which you can reach them. 
‍
For example, if a customer is shopping for a product on your website but has abandoned their cart, the best way to nudge them into completing their purchase would be to send them an email with discount coupons in it, or by retargeting them on Facebook. 
‍
Multichannel marketing would involve targeting the customer on all available channels but through independent messaging. You could target them on Facebook and Google Ads, but the ads would be unrelated and not based on their past activity with your brand. This form of marketing is used to get the word out about your brand to the maximum number of people possible. 
‍
Benefits of Omnichannel Marketing
You should know that omnichannel marketing achieves a level of personalization that no form of marketing can, providing viewers with relevant content, keeping them engaged, and leading to higher AOVs and recurring purchases. A more effective brand message may be delivered by combining the strength and versatility of each communication channel.
‍
Listed below are the 3 benefits of omnichannel marketing:
‍
Boosts Customer Loyalty
Consistency and personalization across marketing channels improve the overall customer experience, leading to higher brand loyalty. 
‍
Strengthens Brand Recall
Consistency in messaging across channels results in customers viewing the brand in the same way despite the channel used, leading to the strengthening of brand recall amongst customers. 
‍
Increases Revenue
Brand loyalty and recall give rise to repeat purchases, which result in increased revenue. They also lead to word-of-mouth marketing, which we know is the best form of marketing there is. 
‍
7 Steps to Develop a Successful Omnichannel Marketing Strategy
‍
There are 7 steps to building an omnichannel marketing strategy that works. Here's how you can satisfy your customers at all touchpoints:
‍
Prioritize Your Customers
As stated earlier, omnichannel marketing puts the customer first. You should evaluate a customer's current journey and work toward facilitating an engaging customer experience at all points in their journey with your brand.
‍
Analyze Customer Data
After a thorough analysis of your customer data, leverage it to cater to customer needs. This will allow you to send relevant messages to them instead of using a one-size-fits-all trial-and-error approach. 
‍
Segment Your Customers and Personalize Your Communication 
An extension of the second step, using the collected data to segment your customers and personalizing your communication with them leads to higher engagement, a customer feeling appreciated, and growing loyalty that lasts. 
‍
Read more about segmentation here. 
‍
Keep Messaging Across All Channels
As mentioned multiple times in this article, consistency is key. Inconsistent messaging can lead to a disconnected brand experience. A set tone of voice should be used to bring together content that is true to your brand's image. 
‍
Use the Right Tool to Connect
Tools maketh the brand. Each tool comes with a unique set of features that can be availed of by users. Depending on your business, you will need the following tools: a customer relationship management (CRM) tool, a marketing automation platform (we hear ShopAgain gets the job done ?), solutions for social media management, and a data analytics tool such as Google Analytics. 
‍
Optimize for Mobile
Billions of people in the world (5.44 billion, to be exact) are smartphone users. Making a purchase on a mobile phone is easy and convenient. Connecting with a customer via SMS or WhatsApp should not be ignored. Along with that, you should make sure your websites are optimized for mobile. 
‍
Test and Track Your Success
It's all in the numbers. As a marketer or company owner, you need to invest in a tool that allows you to track the metrics relevant to your industry. These could be active customers, overall revenue, customer churn rate, AOV, or others. You may well conclude that tracking this data allows you to gather actionable insights to optimize your marketing efforts. 
‍
To know more about which KPIs and metrics to measure in 2023, click here. 
‍
Omnichannel Marketing Examples
‍
Starbucks
Nobody does it like Starbies. Thanks to their mobile app, they are the champions of omnichannel marketing strategy. Signing up on this app offers reward points, and ease of reloading the in-app wallet either online (on the desktop website or the app) or in-store, and is updated in real-time once a purchase is made. It's streamlined, convenient, and engaging. 
‍
Nike
This well-known sportswear brand is extending its tagline of Just Do It to omnichannel marketing as well. Nike's physical stores are digitally enabled and the app allows customers to browse products that are available in local stores. Along with this, it shows customers relevant and personalized items and gives them exclusive access to the newest ones. 
‍
Walgreens
This pharmacy has stepped into the age of omnichannel marketing by allowing customers to check and refill their prescriptions through the mobile app, reducing the need to go to a physical store. It also offers 24×7 live chats with experts. Pretty neat, right?
‍
Nordstrom 
Nordstrom has managed to create a unified experience for its customers by bringing together its physical stores, the online store, and its social media. It allows customers to shop in-store, online, and on Instagram. The Nordy Club loyalty program lets a customer gather points regardless of which channel is used for shopping. During the pandemic, Nordstrom's marketing strategy allowed it to profit while its competitors were filing for bankruptcy. 
‍
Developing Your Own Omnichannel Experience Is the Key
Collaborating with several departments across the company will help you develop a coherent, aligned omnichannel experience for your customers. This experience will be unique to your store. It will include a tone of voice that accurately reflects who you are as a brand. 
‍
Conclusively, incorporating the strategies listed in this article into your marketing plan is a game changer for any business. It will allow you to stay ahead of the curve through streamlined marketing efforts and a seamless customer experience that lead to higher conversions. 
‍
Embracing the power of omnichannel marketing will furnish you with the potential to take your business to the next level. 
‍
---