Order Confirmation Emails | Best Practices and Examples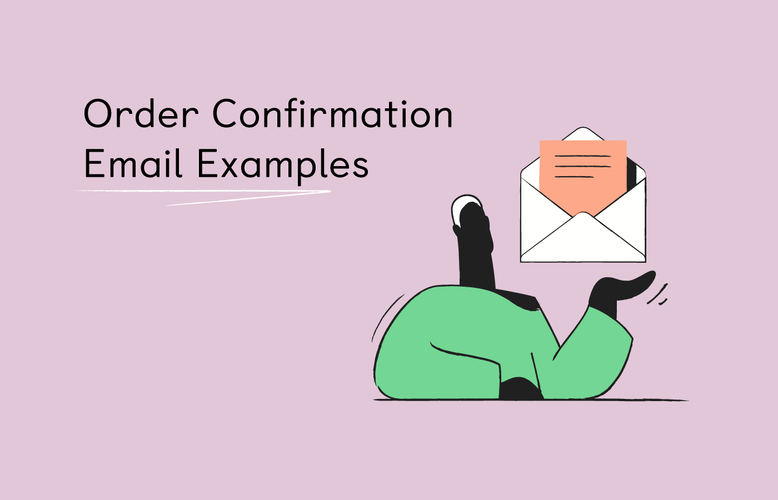 The merchant sends order confirmation emails once they've completed a transaction in an online store. Learn the best practices today.
What Is an Order Confirmation Email
Orders are essential to any business, but they aren't the only thing that needs attention. You also need to follow up with your customers to make sure they received the order and to ensure they are happy with their purchase. So, what exactly is an order confirmation email? It's just that—a confirmation email letting customers know their order has been received and shipped, along with additional information on how you would like them to proceed.
An order confirmation not only confirms the success of an online transaction but also satisfies a crucial psychological need. Your customer decided to take a chance and completed the transaction. You know you're going to keep your promise, but your customers can only hope you will. They don't know that the product will arrive at their door until they sign for it, especially if they're first-time buyers.
What Should be Included in an Order Confirmation Email
‍
An order confirmation email is a great way to let your customers know that you have received their order and are processing it. But what exactly should you include in your order confirmation email? These emails are usually short, so the important thing is to get right to the point.
1. A Thank-You note along with a confirmation message
2. The date the order was placed
3. Product details include the name of the product, quantity, and price
4. The total price, including the taxes and shipping cost
5. The delivery address to be shipped
6. Order tracking number with a link to track the product
7. The method of payment used to make the purchase
7. Delivery method, the order is being shipped
8. A link to "see product" allows them to return to their product and view it.
6 Best Practices for Order Confirmation Email (with examples)
‍
An order confirmation email is a transactional email that confirms to your customer that their order has been received and details what they ordered. Check out the 6 best practices for order confirmation emails below:
Engaging Subject Line
‍
‍A great subject line for an order confirmation email is key to opening the email. After all, if the recipient doesn't open the email, they can't confirm their order! Here are five tips for writing engaging subject lines for your order confirmation emails.
1. Thank you for your order
2. Your [Brand Name] order confirmation [#01234]
3. Order received – [Brand Name] order #01234
4. Great news! We've got your order #01234
5. Your [Brand Name] order has been received [#01234]
Send Confirmation Email Immediately After the Purchase 
‍
Sending a confirmation email immediately after a purchase is a great way to show your customers that you value their business. Plus, it helps to keep them updated on the status of their order and provides them with a reference point for any future communication. To make things even easier.
For example, some eCommerce stores have a free order confirmation template that can be customized and sent as soon as orders are placed. It's easy to do too! When you create an order, there's a little text box below the checkout button called "Order Notes." All you have to do is type in your message and hit save. And voila! You have just created an order confirmation email template!
Feature Your Best Sellers in the Confirmation Email
‍
If you're running an online store, your order confirmation email is one of the most important emails you'll send. Not only does it provide your customer with a receipt for their purchase, but it's also a great opportunity to upsell or cross-sell other products. Make sure to feature your best sellers in the order confirmation template – this will help ensure that your customer sees them and makes a second purchase. Another thing you can do is add social sharing buttons in the email so that if they love what they bought, they can share it on Facebook or Twitter!
Optimize Order Confirmation Page
‍
An order confirmation email is a great way to keep track of your customers' orders. Using an order confirmation template, you can ensure that all the important information is included in the email. Plus, by optimizing your order confirmation page, you can make sure that your customers have a positive experience when they receive their order confirmation email.
For example, if your customer has already placed an order with you and they're logged into their account, then it's likely they'll know exactly what's going on when they see this new email come through. Be sure to include some sort of link back to your website so that this customer can easily find more products or explore other sections of your site.
A company should use proper grammar and spelling while writing these emails because it may be seen as unprofessional if there are errors in them.
Allure With Rewards
‍
 When sending a confirmation email, include an allure with rewards that incentivize customers to take advantage of the rewards. Show them based on the products they've been researching. There would be more opportunities for the customer to buy. They may not want to put in their credit card information or shipping address just yet, but they're interested in what we have and want us to follow up.
The next time we reach out, it will seem like a no-brainer for them to buy because we are offering such a great reward!
Provide an Order Timeline
‍
A confirmation email should also have an order timeline that specifies when the order will be received. It is more like a promise made by the seller to the customer that must be kept for the customer to purchase from us again. With that said, it's important to outline expectations, both on the part of the buyer and the part of the company. Make sure you include a timeframe for delivery and shipping. If it takes longer than promised, offer refunds or extras as an apology.
Master Your Email Game with Shopagain
‍
By sending a well-crafted order confirmation email, you can build trust with your customers and ensure they are happy with their purchase. A good way to start the email would be "Thank you for shopping at Shopagain." You could then list out all of the items in the order, along with information on delivery times and shipping costs. If you want to go above and beyond, consider adding a coupon code or promotion code for future purchases in this email!
Become a master of the email game with Shopagain. We're here to help you easily send better emails and turn subscribers into buyers. Check out our website and book a free demo.
‍
Frequently Asked Questions
How do you start a confirmation email?
‍
You have to include the order details like the item(s) purchased, the quantity, the price, and the shipping address. You should also thank the customer for their purchase and let them know when they can expect their order to arrive.
When should you send a confirmation email?
‍
You should send a confirmation email as soon as the customer places an order. This way, they know that their order has been received and is being processed. Plus, it gives you a chance to thank them for their business.
---