Shopify vs Shopify Plus: What are the Key Differences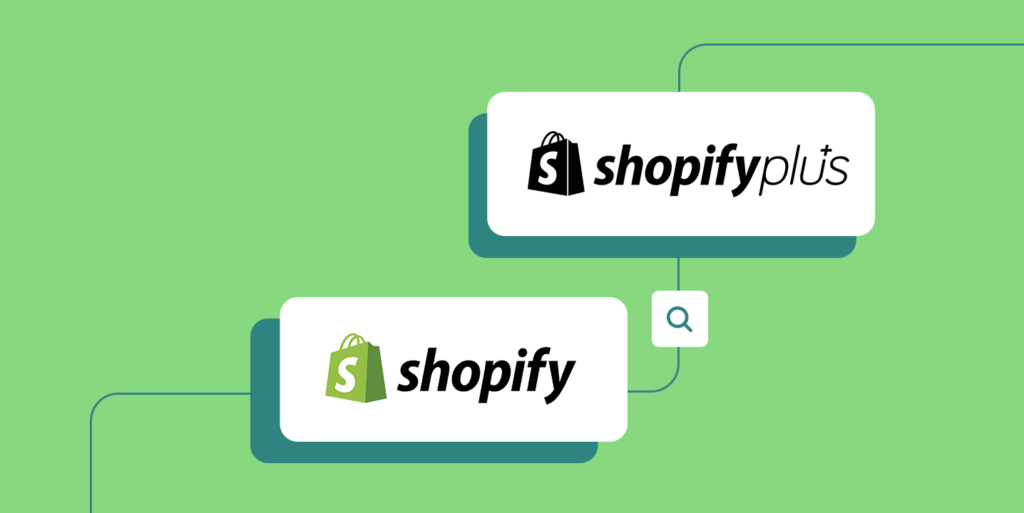 Here is a detailed guide on the differences between the two. It will help you decide which is better for you and your business.
‍
Understanding the Difference Between Shopify and Shopify Plus
‍
E-commerce platforms help you build your store. Whether you sell online or in-store, it is wise to use these e-commerce platforms because they can help you grow your business. Diversifying your business by expanding laterally and tapping into as many channels as possible is smart.
‍
Shopify is one platform for selling products online and best suited for small and medium businesses, whereas large enterprises often use Shopify Plus. Shopify Plus is more advanced in the sense that it offers its users more features.
Shopify vs Shopify Plus: 10 Key Differences
Pricing Plans
‍
Shopify has different pricing plans ranging from Basic Shopify ($29/month), Shopify ($79/month), and Advanced Shopify ($299/month) as of 2022. All these plans come with various features and are visible for the public to choose from. Shopify offers a 14-day free trial to all new users before asking them to invest in a plan.
‍
Shopify Plus is more advanced. Its pricing is expensive and a little less direct. It tailors the pricing plan according to your business's needs. So, you often need to request a quote.
‍
Shopify is relatively affordable. Shopify is what you should go for if you are looking for something budget-friendly!
Seamless Integration
‍
Compared to Shopify, Shopify Plus provides seamless integration with a number of important email marketing platforms like Omnisend, Product Information Management (PIM), and Enterprise Resource Planning.
‍
The exclusive integrations provided by Shopify Plus are:
‍
Shopify Flow
Launchpad
Shopify Organization
Transporter
Wholesale Channel
‍
Shopify is not as smooth with integrations across a business's tech stack. It is, thus, not suitable for large and complex businesses.
Customer Support
‍
Shopify offers 24/7 customer support via phone, email, and live chat. Its Help Center has your back if you ever get stuck.
‍
Shopify Plus provides hands-on, personalized support with its Shopify Merchant Success Program. This program includes 24/7 access to highly-trained professionals, online videos and training resources, an account manager who looks after your business needs, and a Merchant Growth Model. You can also connect to an online community through social media.
‍
Shopify Plus is better equipped to troubleshoot your business problems than Shopify.
More Theme Customization & Design Flexibility
‍
Theme customization and design flexibility are next on the list of differences between Shopify and Shopify Plus. Both offer an array of themes to work from. But it is easier to switch to an entirely new theme if you are using a standard Shopify plan.
‍
Shopify Plus offers you all the customization options that Shopify provides and then some. It gives you access to a theme language called Liquid. Liquid is an open-source template language created by Shopify itself. It is written in Ruby. Liquid helps you make backend changes to enhance your customer experience and streamline your checkout process.
‍
Shopify Plus provides more design flexibility through a dedicated launch manager who helps you write lines of code and sees to smooth sailing.
More API Integrations
‍
API integrations are used to connect to third-party apps. Shopify Plus has the edge over the standard Shopify. Shopify Plus offers enhanced API connectors that help you develop your apps and connect with other tailored apps. Gift cards (alternate payment method), User, and Multipass are various other advanced API resources.
‍
Website visitors are redirected to the Shopify store with Multipass login. User is another API resource that lets you edit and access staff account information.
‍
These API integrations enable you to leverage email marketing to grow your business.
In-Depth Analytics
‍
You can use analytics options even with its basic plan, but Shopify Advanced and Shopify Plus have the edge over Shopify. Shopify offers access to various financial and acquisition reports for analysis. It has a dedicated dashboard with a line view to analyze minute-by-minute data.
‍
Shopify Plus's analytics capabilities cover areas like product analytics, inventory, behavior, marketing, sales, and customers. This helps you stay updated with the latest trends. Shopify plus has the edge over Shopify as it gives you expert and detailed data.
More Customization Options
‍
Shopify Plus also shines through in the customization department, as it has way more to offer than Shopify.
‍
More customization options mean better control over the store and personalized customer attention.
‍
Shopify Plus lets you customize the checkout experience via Liquid based on the shopping cart value. It offers you options like a countdown timer, shipping details, customer reviews, trust badges, and live chat on your checkout page.
‍
Shopify Scripts are another great tool for customizing shipping methods and payment options.
Transaction Fees
‍
If your business uses Shopify Payments, there is no transaction fee. Shopify Payments is simple and straightforward. A transaction fee is charged as a percentage of the total order volume if any other mode of payment is used. There is a difference between the percentages of Shopify and Shopify Plus transaction fees.
‍
Basic Shopify charges 2% for all transactions, Shopify charges 1% for all transactions, and Advanced Shopify charges 0.5 % for all transactions.
‍
Shopify Plus charges 2.15% + 30 cents for domestic external payment gateways and 3.15 % + 30 cents for international/Amex as transaction fees.
Exclusive Apps
‍
Shopify comes with enough features that are suitable for small and single-store businesses. Shopify Plus offers an array of exclusive apps to large store owners to run their businesses smoothly, making it worth the high subscription fee.
‍
Exclusive apps offered by Shopify Plus are:
‍
Shopify Organizing Admin- a single login manages multiple stores,
Wholesale Channel- wholesale customers get a separate storefront,
Shopify Flow- automated workflow after an order,
Overview- offers the best and most dedicated analytics,
Users- access to additional users and better management of their login to your store,
Launchpad- events like promotions, product drops, and restocks can be efficiently scheduled, 
Scripts Editor- better customization of the store for a more personalized experience,
Shopify POS Pro- sync your point of sales with all of your stores.
More Number of Staff Accounts
‍
The number of staff accounts depends on the pricing option you choose. Shopify offers only two staff accounts, whereas Shopify Lite offers just one. This may be suitable for small or single store owners, but large stone owners need to give the entire team access to the store dashboard to run their businesses smoothly. Shopify Plus offers unlimited staff accounts and enables additional permissions settings. 
It's Time to Make a Choice!
‍
Funds, needs, and capability are the bases of what you should choose for your business. This blog has given you an overview of what both Shopify and Shopify Plus offer. You know your store best, which is why it is entirely up to you to decide whether to choose Shopify or Shopify Plus. 
Frequently Asked Questions
‍
When should you switch to Shopify Plus?
‍
If your business is rapidly growing, you must have access to the right e-commerce platform that has everything to offer to help you scale your business. Shopify Plus is the answer to this daunting task of managing a fast-growing e-commerce business.
Why is Shopify Plus better?
‍
Shopify Plus is a versatile e-commerce platform that has all the advanced features to run a global, large-scale business. It has everything that Shopify can offer and more. Detailed analytics, advanced features, and more API integrations to name a few.
---