Text Message Automation: The Most Powerful Tool to Grow Your Business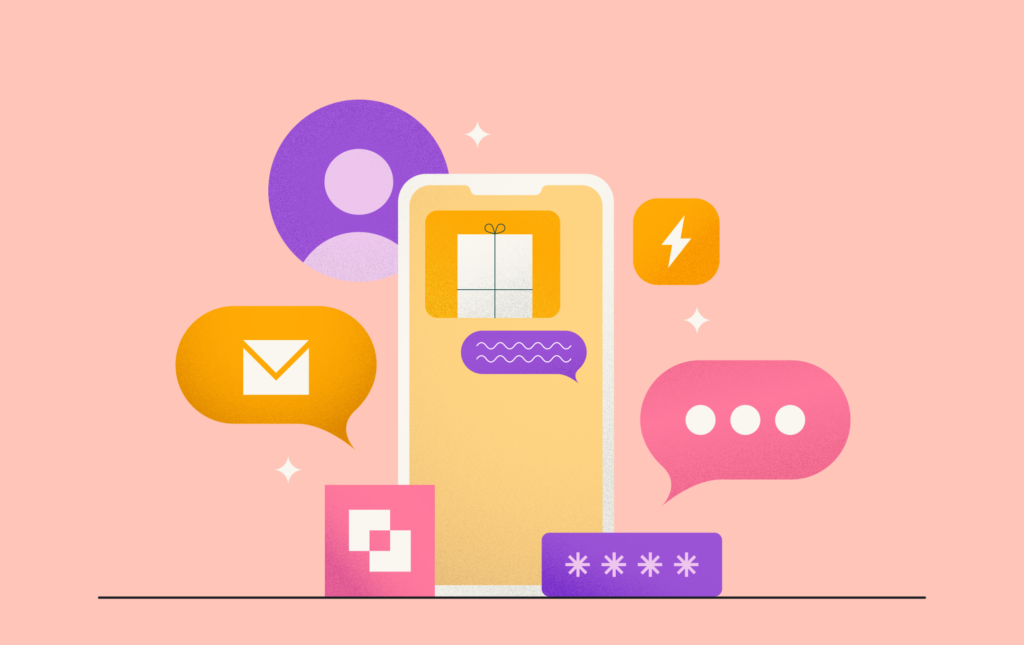 Automated Text Messages: How Do They Work?
‍
Marketing automation has brought about a huge change in how brands interact with their customers. Responses from brands are quicker, more personalized, and result in better conversions.
Automated text messages are sent or triggered automatically depending upon conditions set up in advance. Besides saving time and resources employed in manual execution, automated text messages also lead to a better customer experience as the right message is sent to the right person at the right time with little or no manual intervention.
The condition or a combination of conditions required to be met before the campaign is triggered can be set up with a few clicks using simple logic with the help of automation software.
How to Set Up Autoresponders and Send Automatic Text Messages
‍
Autoresponders use customer keyword responses to trigger a predefined response back to them. When the automation logic is set up, the triggers corresponding to the keywords are also defined. The choice of keywords will depend on the type of business that you have. Make sure that they are self-explanatory.
Automatic text messages can be set up in a few easy steps:
‍
Sign-up for a Service Provider & Upload Your Contact List
The first step toward automating your text messages is to sign up for a service provider that offers what you want.
Once you have selected the service provider, the next step is to upload the data of the customers who have opted to receive text messages from you. It is essential to have consent before the campaigns are triggered, not just to comply with the regulatory authorities but also to be ethical in your approach towards your customers.
Segment Your Contact List
‍
Proper segmentation can prove to be extremely useful for your business needs. Customer lists can be segmented into smaller lists based on geography, demographics, user behavior, interests, or other factors considered important from the organization's perspective.
This will ensure that the communications that customers receive are relevant to them and their interests. These sub-segments will need to be updated periodically to keep including new entrants in your campaigns.
Set Up Short Autoresponder Keywords
‍
An autoresponder is an automated text communication that is triggered when a person sends a unique keyword to a number or a code. Autoresponder keywords are the keywords that the customers will send in order to get an automated response from your end.
Let us say that a customer texts the keyword "SALE," and autoresponder rules have been set up against this keyword. An automated text campaign gets triggered with the following content: 
"Shop at any of our stores for the next two days and get a flat 10% off on your bill. Use code SALE10. Hope to see you there!"
Create Exciting Offers to Encourage Users to Subscribe
‍
Contests and giveaways can be planned to increase opt-ins for your list. Something along the lines of:
"Exciting offers waiting for you to be explored, text 'OFFERS' to 123456 to know more." This will act as a hook and get you more subscribers. 
Other ways to add more users to your text messaging list include using your social media channels or adding a small form on your website that captures the phone number of the user in return for offering some incentive.
Schedule & Send
‍
Once the campaign is appropriately set up, it is time to schedule it. Put in the start date and time and the end date and time (in case it is a limited period campaign).
Automated campaigns require little to no human involvement past this stage, the marketer will only need to check the stats and fine-tune the campaign, if required. If there are new product-level developments, the campaign can be edited at any time in just a few clicks.
Automated Text Templates
‍
The text templates need to be concise, to the point, and deliver value to the customer.
A few sample templates for some of the most widely used types of automated text communications are shared below:
Order Updates & Reminders
‍
Your order number (123456) has been dispatched and will reach you in __ days. Thank you for doing business with (brand name). If you have any queries, please contact (support contact).
Special Offers & Occasions
‍
Thank you for subscribing. We have a special 15% discount for all our subscribers from today till Christmas. Use code FESTIVAL upon checkout to avail of the offer. Enjoy!
Abandoned Cart Updates
‍
(Name), great choice selecting that order. But don't just let it sit in your shopping cart. The current discount ends in 4 hours. It guaranteed order delivery in the next two days. Order now!
Away Message
‍
Hello (name), thank you for reaching out. We are currently out of the office and will be back by Monday. Our working days are from Monday to Friday between 10 AM – 6 PM.
Collecting Reviews
‍
Hey (name), hope you had a fantastic shopping experience. Customer satisfaction is of utmost importance to us, and we thrive on getting better at it with each passing day. Let us know how we did. (feedback form)
Get Started with ShopAgain
‍
SMS is the highest engagement channel. We at ShopAgain, realize the importance of targeting customers on the devices they spend the most of their time on.
ShopAgain uses SMS automation at optimal occasions to build your SMS marketing strategy effectively. All you need to do is to start your free trial.
Frequently Asked Questions
‍
How can I personalize my automated text message?
‍
There are a number of ways to personalize your automated text message. The simplest one is to import a list containing the customers' phone numbers, first names, and other fields you may need for personalization.
Another way is to ask for additional information directly from the customer and pass that keyword in your template.
How does text message automation work?
‍
Text message automation involves messages that are triggered automatically based on certain conditions that are defined in advance. Automation saves time and resources and leads to better response time, which ultimately results in providing a better customer experience.
---