The Beginner's Guide to Keyword Research for Ecommerce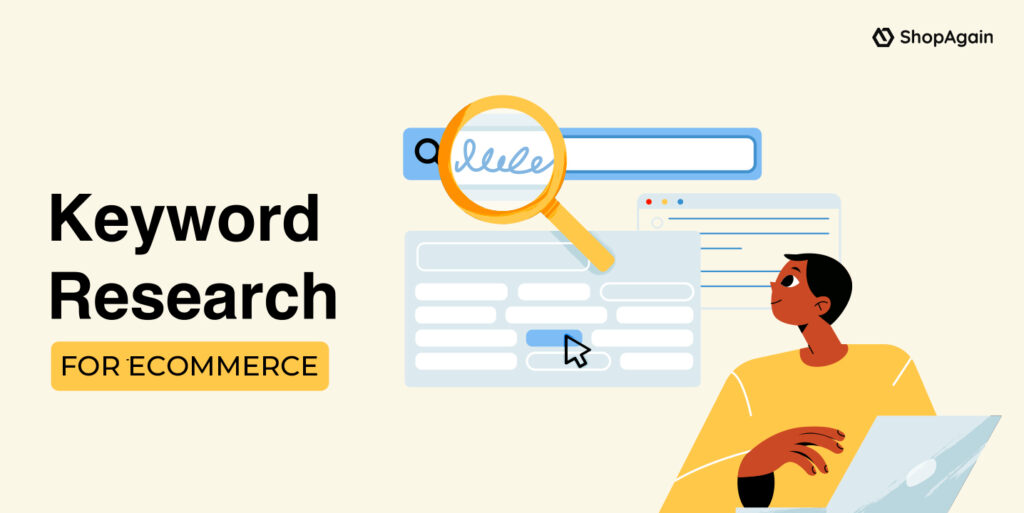 In this blog, we will teach you the basics of keyword research. 
‍
What is Keyword Research?
The process of figuring out and analyzing search terms that people type into search engines, and then using those "key" words for search engine optimization (SEO) or general marketing is known as keyword research.
It helps determine which queries one should target, how popular those queries are, what their rankings are, and more. 
‍
Keyword research is essential because it helps you find the right keywords to target and provides insights into what your audience is searching for when they are looking for a product or service you may provide.
‍
Content is not created around what you want to show people, rather it is created around what people want to see. This means that you should not be answering questions that nobody is asking, instead, you should be focusing on addressing queries that have the highest numbers. 
For example, "riding boots near me" is going to have higher searches than "equestrian boots in my proximity". 
‍
‍
The Basics of Keyword Research
Let's talk about the basics of keyword research- it's the terminology potential buyers are using to buy whatever it is that you are selling. The goal here is to help you build a list of relevant keywords that you can use over time to optimize your website for searches. 
‍
‍
Understanding Keywords
Majorly, there exist two types of keywords- short tail and long tail. 
Short tail keywords are short words or phrases (surprise, surprise) that are made up of not more than three words. 
Sometimes, we call them head keywords. These keywords have a high search volume and are also competitive. Audiences use these keywords at the earliest stage of their research. As they progress, the keywords become more and more long-tail. Long-tail keywords are specific in nature. 
Think of it this way: 
If you search for 'vitamin C', it can generate results about lemons, serums, supplements, and whatnot. If you narrow it down to the specifics, it will give you accurate results about what you are looking for. "Vitamin C serum for anti-aging" will work better if that is what you are looking for. Online sellers will need to have this phrase showing on their website pages.
These keywords are less competitive and yield better results. 
‍
‍
Search Volume
Search volume, also known as average monthly searches, is the total number of searches each month for a particular keyword or phrase.
As a marketer, you need to target keywords that have high monthly search volumes because it means that many users are searching for that term. 
The higher the volume of these searches, the more competitive they are.
You need to aim to include keywords that have at least 20 searches a month. 
There are many free research tools that you can use to determine which keywords work for you. 
‍
‍
Keyword Difficulty
Keyword difficulty or SEO difficulty is a score between 1 and 100 to determine how difficult it will be for your chosen keyword to rank on Google. 
Higher keyword scores mean it will be hard to compete with existing search results- this implies that as a marketer, you would want to stay at the low end of the rankings if you want your website to be visible. 
‍
‍
Search Relevance
How closely does the search query relate to the search results? This is what search relevance measures. 
You may use a keyword with a high search volume, but if the content that is on your page does not match the search queries, or if you are selling something entirely different than what you are portraying, the keyword optimization will not yield conversions. 
SEO is a marathon, not a race. You need to be in the game for the long run.
‍
‍
Brainstorming an Initial List of Search Terms
You will need to think about an initial list of keywords you figure your audience will be using to look for you online. For this, you could later use online keyword research tools. First, you should just grab a pen and some paper and note down what you think your audience searches for. 
For example, if you sell shoes, then words like "shoes", "boots", "slippers", and more should be where you begin. Then, you would want to expand your keywords to "black shoes", "winter boots", etc. From there, you may want to work on the long-tail keywords. "Black patent leather heels for women" is a long-tail keyword. Build yourself a list with as many keywords as you can. 
‍
‍
Keyword Research Tools
Use keyword research tools after you have built your initial list. The simplest, cheapest, and surest tool to use is Google's own suggestions option. Just type in your keyword and see what pops up as the suggestion- this is what people are looking for. 
Apart from that, many of the paid and free tools available online do a stellar job. AHref, Übersuggest, Google Keyword Planner, and SEMrush are our top picks. 
‍
‍
Refining the Keyword List
Now, you need to refine your keyword list. For this, you need to ask yourself whether the keywords you have picked are actually relevant or not. If a user drops by your website looking for something in particular that you claim to have, will they be able to find it?
‍
‍
The Importance of Keyword Research
You need to re-evaluate your choice of keywords every few months- once a quarter should be good enough. As you gain more authority in the search engine results pages, you will notice that you will be able to increase the number of keywords you can add to your lists in order to maintain your current rankings and grow in new areas. 
Keyword research is important to establish your presence online. If you are selling something people want, but potential consumers don't know that you exist, what is the point of selling that product?
‍
‍
Frequently Asked Questions
‍
How are keywords useful for eCommerce clients?
Learning how to use keywords can help sellers make data-driven decisions, become easy to find in search results, and improve content strategy, eventually leading to a higher customer count and increased revenue. 
‍
Which keywords are best to target SEO?
Long-tail keywords are usually the best to target SEO. You may want to take into account search volume, the number of clicks and relevance, and authority. 
‍
Why is keyword research so important for eCommerce content?
Keyword research allows you to choose relevant keywords that help potential customers find you through a web search.
‍
---