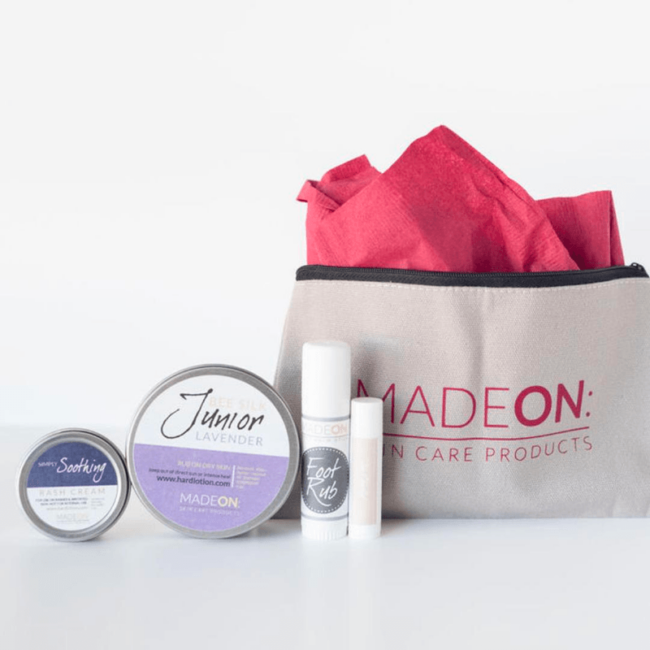 MadeOn is a family-owned business that sells natural skincare products, including hard lotion bars, lip balms, and other handmade skincare items. The company was founded in by a mom named Renee, who was looking for a solution to her family's dry skin issues. Over the years, MadeOn has become a popular brand among natural skincare enthusiasts, and its products are known for their high-quality ingredients and effectiveness.
‍MadeOn signed up for ShopAgain's email and SMS marketing automation software to effectively engage with their customers and drive an increase in sales. This case study will explore how ShopAgain helped MadeOn achieve a 33.5% Customer retention rate and a 19.75% increase in average order value.
"As a small business owner, time is always in short supply. That's why I appreciate how quickly and efficiently the ShopAgain team responded to any questions or issues that I had. Their support allowed me to focus on building my business, which has seen incredible growth thanks to the personalized and relevant email and SMS campaigns sent through their platform."
MadeOn had a loyal customer base, but they were looking for ways to attract new customers and grow their sales. They wanted to engage with their customers in a more effective way and provide personalized recommendations and promotions, but they were frustrated with having to wait hours for a response from customer support from their existing marketing automation provider, Klaviyo. MadeOn needed an all-in-one platform that would allow them to send email and SMS campaigns, as well as provide product recommendations, without requiring a significant learning curve. They also wanted a platform that would provide quick and responsive customer support to address their needs promptly.
MadeOn used ShopAgain's segmentation and automation features to send targeted emails & SM to different customer groups based on their purchase history and preferences. For example, it sent targeted campaigns to customers who had purchased specific products or who had not made a purchase in a while. These targeted campaigns helped the company to increase its customer retention and revenue. They also utilized ShopAgain's product recommendation feature to offer personalized recommendations to their customers. ShopAgain's all-in-one platform was easy to learn and manage, and the MadeOn team appreciated the quick and responsive customer support provided by the ShopAgain team.
With ShopAgain's help, MadeOn was able to achieve the following results:
33.5% Customer retention rate
42.5% increase in revenue
19.75% increase in average order value
MadeOn's team was pleased with the easy-to-use software and the available support, which allowed them to focus on other aspects of their business. Team ShopAgain helped them to resolve any issues promptly and keep their email & SMS campaigns running smoothly. The team was very happy with the increased engagement rates from their customers due to the personalized and relevant email and SMS campaigns. MadeOn's team looks forward to continuing to use the platform to grow their business.
MadeOn's success with ShopAgain highlights the importance of targeted and personalized marketing in e-commerce. With increased email revenue and average order value, MadeOn has seen a substantial return on investment. 
By signing up for ShopAgain's all-in-one marketing automation software, businesses can take advantage of its many benefits, including the ability to send targeted email and SMS campaigns, provide personalized product recommendations, and receive responsive customer support. Start your journey to growth and success today with ShopAgain.
"As someone who never considered herself tech-savvy, I was hesitant to use a new software. But the ease of use and quick customer support provided by ShopAgain's email marketing automation software quickly won me over. And with the increased revenue and customer engagement we've seen, I know that partnering with ShopAgain was the right decision for my business."