5 Types of Emails You Need to Send to Customers (with examples)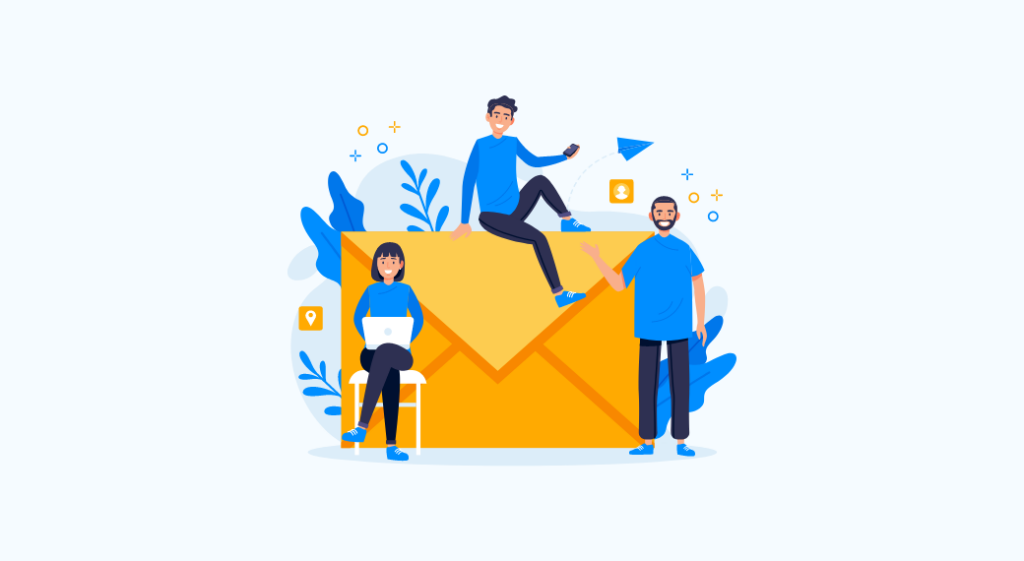 Choose from different email types and templates to make your email list more responsive and improve sales.
‍
Understanding Types of Emails & Templates sending to customers
‍
Emails can be one of the most powerful and effective ways to grow your business—as long as you're getting it right! This article will take you through different emails and email templates to set goals so you can start emailing like a pro.
5 Most Common Types of Emails You Should be Sending
‍
Let's say you have worked complex building email lists, making them mobile-friendly, and learning how to personalize messages. But none of them would work if you sent the wrong emails. Below are the top 5 common email types every business should send.
Welcome Emails
‍
A welcome email has always been effective because customers expect to receive it after making a purchase, allowing them to access and review all of the details, including the tracking number.
This is the opportunity for businesses to interact with their customers and try to upsell or cross-sell by showcasing the best-selling products.
For example, Welcome aboard and thank you for being a part of the (brand's name) family.
Please check out our top 5 best-selling products; they may interest you.
‍
Newsletter Emails
‍
Opt-in email newsletters are critical for increasing brand awareness and providing an opportunity for marketing teams of all sizes to communicate with their target audiences. Always keep your audience up-to-date by sending recently published content, whether it's weekly, monthly, or quarterly.
An effective email newsletter will result in increased website traffic, a larger social media community, and, of course, increased sales.
For example, we're glad you're here!
Thank you for joining our email list. You'll be the first to hear about the (brand's name) news and promotional offers.
Survey & Review Request Emails
‍
Asking your customers for feedback is a great way to improve your business. But what's the best way to go about it? Send a survey or review request via email! These types of emails are designed to get customers to think about their experience with your business. Plus, they're easy to personalize and send out en masse.
For example, "Thank you for your purchase" (customer's name).
Recently, you have shopped with us and it has been delivered to you. Would you please write a review or leave a short comment on our website?
It is important to us.
Promotional Emails
‍
There are many different types of promotional emails, each with its own strengths and weaknesses. You'll need to decide what kind of email is right for your business and your customers.
For example, "Hello (customer's name),"
We are excited to announce to you the limited offer of 25%, which ends tonight at 12:00 am.
Abandoned Cart Emails
‍
One type of email template you can use is an abandoned cart email. This email is sent to a customer who has added items to their cart but has not completed the purchase. An abandoned cart email should include the items left in the cart, a link back to the cart, and a coupon code for free shipping or a discount.
For example, empty your cart with a 15% discount.
We have noticed you have forgotten to move ahead with the payment. Click on the link (product page) to continue with payment and get a 15% discount now.
Communicate the Best with Your Customers
‍
You know your customers best, so send them emails that resonate with them. Depending on your business type, there are different types of templates and email types you can send. Remember what would work best for your customer base and mix things up to keep them engaged. Plus, don't forget to include a call-to-action in every email!
Frequently Asked Questions
What are the 5 things that every email should include?
‍
1. A clear and concise subject line that accurately reflects the email's content
2. A professional greeting that sets the tone for the rest of the email,
3. A brief yet descriptive introduction that summarizes what the email is about,
4. The call-to-action that gives recipients a reason to take action on your request,
5. And lastly, a signature at the end of the email with your contact information.
In general, you should always include these five things in any type of email sent to customers.
What are the different types of emails you can send?
‍
Depending on what you want to achieve with your email, there are different types of templates and strategies you can use. For example:
1. Confirmation emails
2. Abandoned cart emails
3. Promotional emails
4. Lead nurturing emails
5. Survey emails
What are the three styles of email?
‍
You should send three types of emails to your subscribers on a regular basis: transactional, promotional, and triggered.
---