A Comprehensive Guide to Double Opt- In vs Single Opt- In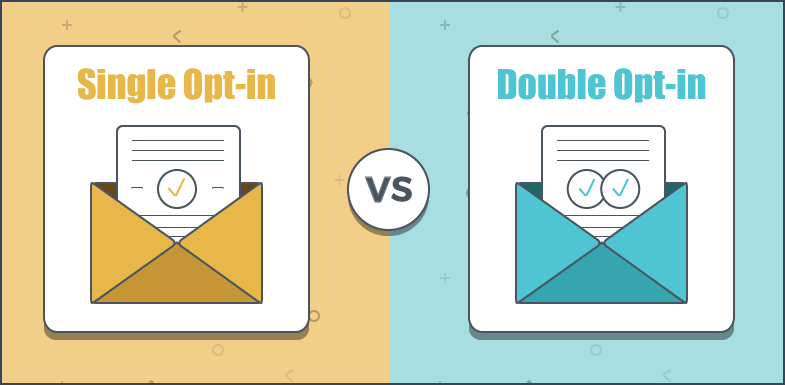 Understanding Double Opt-In vs. Single Opt-In
‍
Often, in many aspects of marketing practices, you may come up with confusion as the honest response. There are times when you need to choose between either side of the coin when implementing any task, and this applies well when it's about choosing between single opt-in and double opt-in for your campaigns. So, here we are with a comprehensive guide to conclude the war between double opt-in vs. single opt-in. Read on and let your decision act as a tool to clear the confusion of choosing between the two! 
‍
What Is Double Opt-In?
‍
As the name suggests, double opt-in means the subscriber just needs to go through a two-step process. In the first step, a user enters his/her email address and clicks the subscribe button. In the next step, the person will receive a confirmation mail from the business's end, and only after the customer hits confirmation does he/she become a subscriber. 
‍
In the image reference below, you can see the first step, which involves entering the email address, etc., for opting to receive emails from the brand.
‍
‍
‍
Once the user submits the details, they will receive a confirmation email, as shown in the image reference below.
‍
‍
Once they click the confirmation button, the user will become a subscriber. 
‍
Pros of Double Opt-In
‍
One of the primary reasons why many marketers choose to go the double opt-ins is that it guarantees an enhanced quality of subscriber lists. It's pretty understandable that if someone goes through a two-step process, they are pretty serious about receiving offers and emails from the brand, and there is almost no chance that they have subscribed by mistake. This also leads to a lower unsubscribe rate. 
‍
Additionally, with double opt-ins, your emails' open rates and engagements will also be higher. Double opt-ins also ensure that the details entered by the users are correct; thus, it results in improved deliverability. Also, when a customer goes through double opt-ins, there is a lower chance that they will mark you spam, and your emails will end up in their spam box.
‍
Cons of Double Opt-In
‍
Nothing in this world is perfect, and the same goes with double opt-ins. As it is a two-step process, it makes the process a little time taking. Therefore, your list won't be growing too quickly. Simply put, with double opt-in, you go for quality over quantity. 
‍
What Is Single Opt-In
‍
Unlike double opt-in, which comprises a confirmation after submitting an email, single opt-in is a one-step process that turns users into subscribers the moment they hit the 'Subscribe' button in the sign-up box. There is absolutely no confirmation required; thus, it's a faster and simpler process. 
‍
For example, in the image below, you can see the sign-up box from the brand with a CTA to enter their email and become a subscriber.
‍
‍
Now, the moment they enter and submit their emails, they start receiving promotional offers and emails from the brand like this –
‍
‍
Pros of Single Opt-In
‍
One of the key benefits of single opt-in is the speed it offers, which helps your subscriber list to grow at a decent pace. As it doesn't take the user through a second step for confirmation, there are 20-30% more subscription rates as compared to double opt-ins. For a new business, a single opt-in can undoubtedly be of preference because it guarantees quicker list growth than double opt-ins. 
‍
Studies have found that more than 61% of users don't proceed to complete the second step as in double opt-in. Therefore, single opt-in being a one-and-done process, is the key to growing your email list without taking a chance of losing out on your audience. 
‍
Cons of Single Opt-In
‍
Though you may be thinking of single opt-ins as the ideal pick for you as they can rapidly increase your subscriber list, you need to consider something. The downsides of single opt-in are simply the opposite of the positive sides of double opt-in, and thus, the probability of fake/mistaken subscriptions, unsubscriptions, lower open rates & engagements will be higher. 
‍
Legal Issues Related to Both Opt-Ins
‍
None of the opt-in methods gives you an edge over the other legally; however, double opt-ins have a few advantages. Double opt-ins act as an extra layer of security in cases where a user raises a complaint stating that they never subscribed to your emails. Double opt-ins will help you show the user's actions to subscribe to your mailing list, and it becomes easier to find that out as they have already confirmed the subscription from their end. However, keep in mind that Double Opt-in is not a legal requirement under Can-Spam Act 2003, CCPA, or GDPR rules, but opt-out is. 
‍
To Sum it all up
‍
In a nutshell, both single and double opt-ins have their own uniqueness and effectiveness. Ideally, you should go for trying out each alternative for a month and track what's helping you to bring the best results.  This will allow you to pick up nothing but the most value-driven option. If you are looking for a result-driven email-marketing tool, turn to ShopAgain. It's convenient, efficient, and pocket-friendly.
‍
Frequently Asked Questions
‍
How do companies use double opt-in?
‍
Double opt-in signifies a higher level of user interest; thus, several companies use double opt-in to enhance the engagement rate for their promotions, offerings, and more. 
‍
Is double opt-in best practice?
‍
When used in the right way, double opt-in can turn out to be extremely beneficial for your business as it comprises a filtered audience who are seriously interested in the products-services of your business. 
‍
Why is opt-in better?
‍
In email marketing, opt-in is always better as you take permission from your users, eliminating the chances of being marked spam. Besides, when you have a dedicated list of subscribers who have opt-in for your emails, you might get improved engagements and sales. 
‍
---