A Detailed Guide on Ecommerce Transactional Emails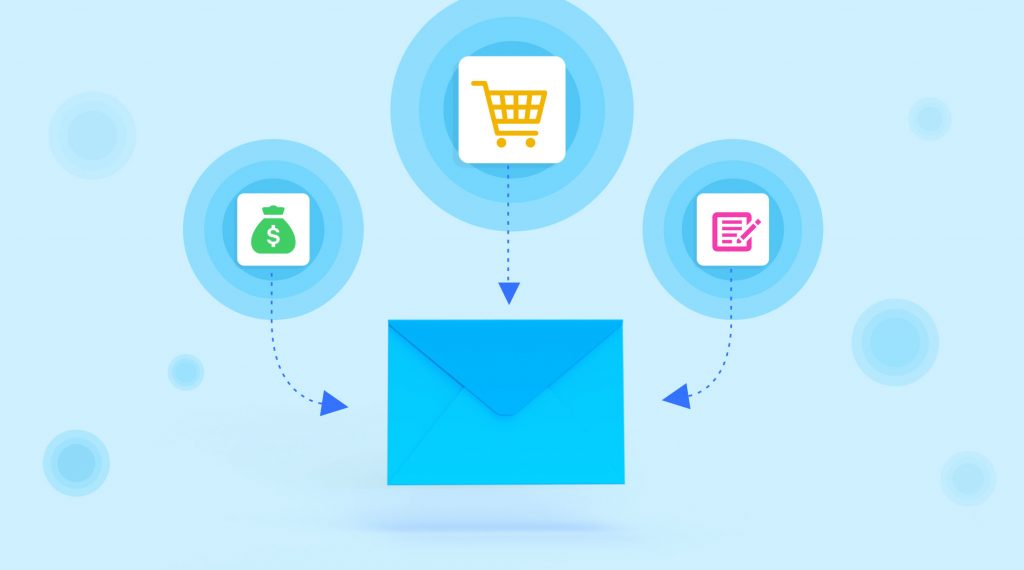 Everything You Need to Know About Ecommerce Transactional Email
‍
Recently, Seth Godin shared a list of things that "every good marketer knows." The list includes a point – "anticipated, personal and relevant advertising always does better than unsolicited junk." The post's conclusion says that there's a significant difference between knowing things and implementing them practically. 
Transactional emails are one of those must-have tools that every good business owner should know about so that by implementing them, they can avoid sending unsolicited junk. Confused? The explanation is on its way – keep reading!
‍
What is an ecommerce transactional email?
When ecommerce business owners send an email to an individual recipient after a commercial transaction or any other specific action of that customer, it's called an ecommerce transactional email. 
Ecommerce transactional emails have become a norm. A part of the purchase experience, many customers panic when they don't receive post purchase transactional emails, or think there is something wrong with the store. Furthermore, ecommerce transactional emails such as post purchase ones have the most number of opens which is one of the reasons ecommerce store owners should not leave this opportunity. 
Though transactional emails are not sent in bulk and strictly depends on customer to customer's activity, there is some scope of marketing which can be utilised for the best interest.
How do transactional emails work?
Typically, transaction emails are automated. They are triggered by particular interactions, preferences, or events within a service. They can be: 
Account notifications 
Payment invoices 
Welcome emails 
Shipping notifications 
Order confirmations 
Password resets 
Purchase receipts 
Payment failure notifications 
It's worth remembering that recipients expect to receive transactional emails. In fact, in most cases, they will keep on refreshing their inbox until specific transaction emails hit their inbox. Transaction emails typically feature HTML email templates with dynamic content. 
Typically, transactional emails use  APIs or SMTP integration for sending emails. Due to this reason, they typically require a developer who can set up a system for sending coded templates to particular recipients depending on selected actions. 
Transaction Email vs. Bulk Email
The primary difference between transactional emails and bulk emails is that transactional emails are sent after a commercial event or transaction, while bulk emails are hard-core promotional. Transaction emails are sent to specific recipients, but bulk emails can reach multiple recipients. Another point in transactional email vs bulk email is the schedule- while bulk emails are scheduled depending on various other metrics like open rate timings, promotions, CTR; transactional emails are sent right after purchase. 
Jurisdictions across the globe specify different requirements for transactional emails and bulk emails. While some jurisdictions consider emails with promotional content as marketing emails, others consider an only event or transaction-triggered emails as transactional emails. Overall, it's worth remembering that bulk or marketing emails should essentially boast an unsubscribe mechanism. Thus, if you are including any promotional content in transaction emails, you should do it carefully. 
Top 5 Use Cases of Ecommerce Transactional Email
Here are the most common uses cases of ecommerce transactional emails:
‍
Order Confirmation Emails
This is the most known type of ecommerce transactional email. As the name suggests, they are sent when a transaction takes place. Put simply, when customers get an email that confirms online purchases, you can call it an order confirmation email. These emails usually include PDFs, ebooks, or similar downloadable elements. 
However, it's worth keeping in mind that not every confirmation email relates to monetary transactions. RSVPs or new account sign-ups also involve the receipt of confirmation emails as they verify that the registration or sign-up has been done successfully. 
Password Reset Emails
When users explicitly request a service like resetting passwords, they expect such emails to arrive at the earliest. Password resets, and verification codes used in 2-Factor Authorization are also considered as ecommerce transactional emails.
‍
Double Opt-in Emails
Double opt-in the process of adding new contacts to your email lists. This requires the collection of email addresses via a sign-up form. Upon signing up, the user receives a confirmation email to the provided address for validating the provided contact information. These emails are considered transactional. 
Support & Feedback Emails
When the user requests support related to a purchased product or service, the resolution email is sent to that individual. Similarly, after purchasing a product, the users receive an email asking for their opinion of the product. Both support and feedback emails are transactional. 
Abandoned Cart Emails
Abandoned cart emails are triggered by consumer behavior, so you can also call them a type of behavioral email. When customers fill their cart but leave before checking out, they typically receive an automated email that reminds them of the items they have left behind. Users may receive abandoned cart emails within 0 to 48 hours, and these transactional emails may include provoking offers for the users to proceed with the purchase. 
This type of ecommerce transactional emails work like a nudge and often boosts conversion where the customer ends up buying the product.
‍
Account Notification Emails
These emails are identical to mobile phone push notifications. These are typically triggered by events like shipping reminders, comment notifications, etc. Account-related notification emails often aim to notify users about something important related to their account, like login alerts, security alerts, billing alerts, payment processing-related issues, etc. Even password resets, and trial expiration notices are also considered account notification emails, which are transactional in nature. 
Why Ecommerce Transactional Emails Are Important
While transaction emails are not an obligation, they are an opportunity indeed. Transactional emails outweigh marketing emails in terms of open rates, making them the golden ticket to building exceptional customer relationships. In addition, transactional emails help improve brand recognition, trigger reactivation, and facilitate regular communications. 
Furthermore, they improve conversion rates by encouraging inactive customers to reconsider their decision and proceed to purchase. Transaction emails can make your customers feel valued, and they can encourage them to trust your brand. Therefore, it's using transactional emails to make the most out of your email marketing campaigns. 
Frequently Asked Questions 
What qualifies as transactional email?
When an email is sent to specific recipients after a particular action or commercial transaction is performed by that individual, such an email qualifies as a transactional email. Password reset links, order receipt emails, abandoned cart emails, etc., are examples of transactional emails. 
Is a welcome email a transactional email?
It depends! If the welcome email is sent after the customer signs up or purchases something, it's a transactional email. Besides invoice emails, an alert email that a customer sets up on your app, comment notifications, etc., are also qualified as transactional emails.
‍
---