Empowering Your Business with ShopAgain's Integration with WhatsApp Business API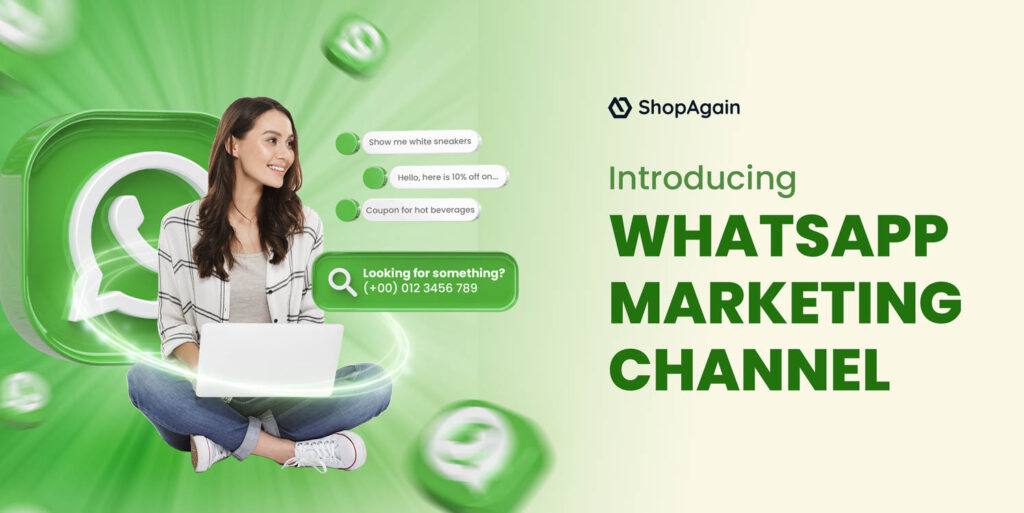 In today's fast-paced and technology-driven world, businesses must prioritize keeping their clients engaged, informed, and satisfied. This involves harnessing the power of the most effective communication platforms available. Understanding this growing need, we at ShopAgain are thrilled to announce our latest integration with WhatsApp Business API through our partner, Gupshup.
‍
Our integration with WhatsApp, one of the world's leading communication channels, aims to equip your business with robust tools to enhance customer experience, automate processes, and ultimately drive growth. What sets this integration apart? It's the exceptional simplicity and affordability it brings to the table.
‍
Quick and Easy Setup
Integrating your business with WhatsApp has never been easier. If you are a verified Facebook Business Manager user, the setup process can be completed in less than 15 minutes! This efficient setup time enables businesses to focus on what truly matters – growing their customer base and driving sales.
‍
Affordable Fixed Pricing
Keeping affordability at the forefront, our integration service is priced at a flat rate of $19/month. This straightforward pricing structure eliminates the need for complex cost calculations and budget fluctuations, making it a reliable and cost-effective tool for businesses of all sizes. Per Message rates are charged by Gupshup.
‍
Partnering with the Best in Industry – Gupshup
Gupshup, our partner for this integration, is renowned for its competitively priced services. As one of the leading providers in the industry, their costs remain unbeatably low, offering unmatched value for our clients. You can check out their affordable prices here.
‍
Native WhatsApp Usage in ShopAgain
One of the distinguishing features of our integration with WhatsApp Business API is the native use of WhatsApp within the ShopAgain platform. This means that once you've set up billing, you can effortlessly create and manage your WhatsApp interactions right from your ShopAgain dashboard.
‍
You're able to build templates directly on ShopAgain, which can be easily incorporated into your campaigns. This feature simplifies the process of creating and sending customized messages to your customers. Whether you want to share product updates, sales notifications, or customer support messages, our seamless interface makes it straightforward and efficient.
‍
The ability to use WhatsApp natively in ShopAgain not only consolidates your business operations but also enhances your productivity. Now, you can manage your e-commerce store and customer interactions all in one place, ensuring a streamlined and effective workflow.
‍
Leveraging Automation with ShopAgain's Triggers
Our integration with the WhatsApp Business API is designed to enhance automation for your business. This integration gives you access to all of ShopAgain's automation triggers, including 'Order Placed', 'Abandoned Cart', and 'Order Fulfilled'.
‍
For instance, when an 'Order Placed' event occurs, an automated message can be sent out, acknowledging the order and providing the customer with relevant details. If a customer abandons their shopping cart, the 'Abandoned Cart' trigger sends an automated message to the customer to encourage purchase completion. The 'Order Fulfilled' trigger can be used to notify customers automatically when their orders are on the way.
‍
These automated features not only streamline your business processes but also enhance the customer experience by keeping them informed at every step, thereby building trust and fostering customer loyalty.
‍
‍
Enhancing Personalized Interaction
Apart from automation, another significant advantage of our integration is the facilitation of personalized customer interaction. You can use WhatsApp natively in ShopAgain to engage directly with your customers. This allows you to address their queries, concerns, or feedback in real-time, adding a personal touch to your customer service.
‍
The Benefits of Growing Your Business with WhatsApp
By integrating with the WhatsApp Business API, businesses can leverage the platform's extensive user base and highly engaging interface. This integration paves the way for enhanced customer communication, efficient automation, and the ability to offer targeted promotions.
‍
In a nutshell, the ShopAgain integration with the WhatsApp Business API through Gupshup is an efficient, affordable, and powerful tool that empowers businesses to streamline their processes, enhance customer relationships, and grow. Harness the potential of this integration today and take your business to the next level.
‍
---