Everything You Need to Know About Email Marketing Automation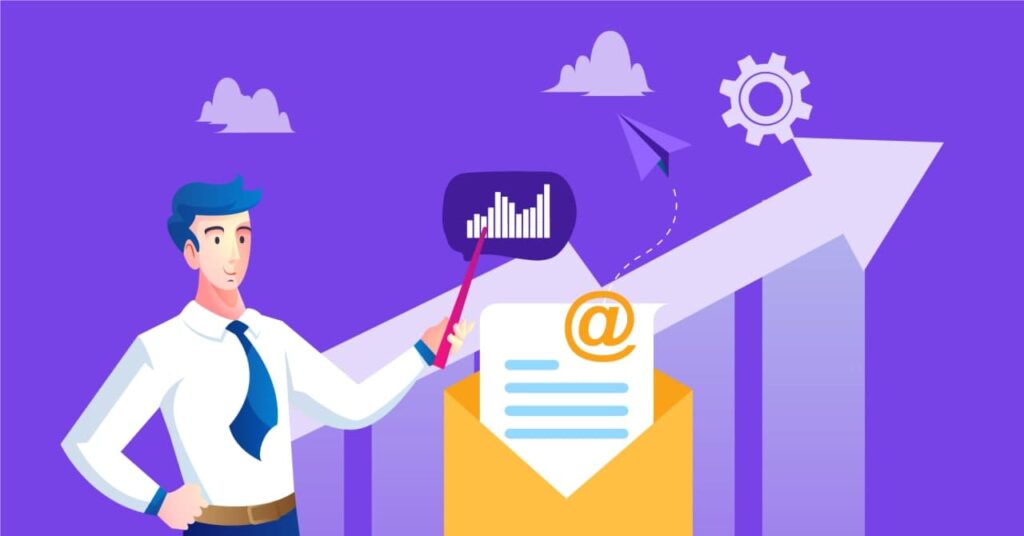 What is Email Marketing Automation?
‍
It is a process of generating trigger messages for targeted customers in response to their actions (or inaction) toward your brand. Email automation saves time and effort as you don't have to frame the emails every time a customer interacts with you. It is a compelling promotional strategy that boosts leads and conversions.
How does email marketing automation work
‍
The actions and interests of the subscribers drive email marketing automation. Triggers direct it. Marketers can use the automation software-generated workflow to send emails based on predefined criteria. The marketing action a company wishes to automate determines how long a series of automated emails should be. For example, on signing up for a new website, customers are sent an automated welcome email introducing them to that brand. This email is based on a set of predetermined rules to drive better social engagement. 
Email Marketing Automation Strategies You Must Know
‍
Planning your campaign, email marketing segmentation, conducting A/B testing, using web tracking, efficiently developing landing pages, and re-engaging existing customers are some helpful email marketing automation strategies to drive traffic to your website.
Figure Out Your Specific Goals for Every Campaign
‍
You can efficiently plan your email marketing automation campaign by making a list of specific goals and objectives that would help with brand awareness and nurture your business in the long run. This will determine the promotional strength of your automation campaigns. Identifying the prospects can prove to be a game changer. This is possible through efficient data collection. Knowing your customer better will help you to come up with clear-cut goals.
Segment Your Email List
‍
Email marketing is run by the idea that your email reaches the right person at the right time. Email marketing automation saves time and money by taking repetitiveness out of the equation. All of your prospects have different interests; thus, the emails must be tailored according to their requirements and wishes. This can be achieved by segmenting the subscribers into various groups based on the verified collected data.
Conduct A/B Testing
‍
It is wise to test your emails at all stages of your marketing campaign to create completely optimized marketing automation. A/B testing can prove to be a powerful tool in this strategy. Subject lines, content, time, email trigger, and the frequency of your emails can be skillfully checked through this method. The next step should be to measure the results using a tracking system. Testing helps in the analysis of conversion rates.
Use Web Tracking
‍
Web tracking lets you access the subscribers' interactions (actions and inactions) with your brand. The click-through data proves crucial in identifying the links that receive a positive response. You can significantly reduce complaints, bounces, and the number of unsubscribes by framing your emails based on the analysis of your web tracking. It is imperative to track the results of these key performance indicators or KPIs ( delivery rate, sales conversions, unsubscribe rate, and click-through rate). 
Develop Your Landing Page
‍
It is advised that you carefully craft your landing page. It should be cohesive with your messages sent to the subscribers. A well-developed landing page helps to boost the overall conversion rates. The framework, number of landing pages, and templates must be thoughtfully determined so that it is consistent with the images and your messages.
Focus on CTA
‍
A persuasive call to action (CTA) makes a statement for your brand. It is created at the end of your marketing funnel, which hints at the goals that you are striving to achieve. It is meant to inspire the targeted audience and can make or break your promotional campaign. Thus, a CTA must be compelling enough for the customers. Shop now, book a meeting, sign up for a free demo, explore, browse and others are examples of CTAs that generate high responses. 
Re-engage with Existing Customers
‍
Maintaining engagement with existing and new customers determines the success of your advertising campaigns. Your amazing offers and problem-solving ideas are useless if your target audience doesn't open your emails. You have to take creative measures to just more than show off your product. The goal is to keep the customers engaged with your brand by infusing the emails with personality and worth. 
Email Automation Workflow Examples
Welcome Email
‍
The welcome email is the first formal interaction with subscribers who acknowledge their interest in your brand. The first impression is essential in maintaining a lasting relationship with the customer. The welcome email should introduce your brand, make the subscriber feel appreciated, set expectations, and shape their overall experience with your business. It should list the benefits you are offering and be clear, informative, personalized, and actionable.
‍
Abandoned Cart Email
‍
It is a common practice among customers to keep the items on the card and not complete the purchase. Abandoned cart email encourages customers to purchase the items left in the cart. It often reminds and implores them to purchase abandoned items by including special offers. It sends alerts for sales to keep the customers interested in the product. It is a classic automation feature.
Order Confirmation Email
‍
It is the most expected email by the subscriber. It is sent right after a purchase is made, giving the purchase and delivery details. This email can prove beneficial for businesses as it can help drive referrals and build customer loyalty by picking up on their excitement. 
Thank You Email
‍
It is a strategic email sent thanking the customer for their purchase (or subscription) and business with your brand. It is the best way to forge a meaningful and lasting relationship with the customer by showing gratitude. It also acts as a promotional tool by which you can invite them to follow you on social media. This automated email can help you establish credibility.
Birthday Email
‍
Classic automation sends a custom birthday message and a special offer to the subscriber on their birthday. Some automation software can send the message before, on, or after their birthday. These emails aim at customer retention and sales. It's your way of showing customer loyalty and improving engagement. It has proven to be an effective tool leading to referrals.
Email Marketing Automation Best Practices
‍
Email marketing automation is paramount. It saves money, energy, and valuable time. Some of the best email market automation practices are:
‍
Designing a branded template: the template you design should match your brand. A generic one could do better. Create a unique template that helps increase brand recognition.
ShopAgain's email template library is easily customizable and allows you to tailor-make designs to suit your brand.
Sending an onboarding series: this series helps customers and clients get to know your brand. It helps you welcome new subscribers and make a good first impression. Remember to provide links to top-rated content, bestsellers, and special offers.
‍
Making room for milestone events: birthdays and anniversaries are important occasions that need to be remembered by you. Wishing someone on their special days and offering them a little something from the side of the brand goes a long way in building customer loyalty.
‍
Bringing clients back to their abandoned carts: many a time, customers do not finish their purchases. An abandoned cart email series that reminds them to finish their purchase and then offers them the abandoned items at a discounted rate to nudge them to finish the purchase gently.
‍
Managing your email list: Customers are segmented into different lists depending on where they are in the sales funnel and the choices they make. Those who click on the do not disturb option should not be disturbed with emails at all, and those who opt for infrequent communication should be sent emails every once in a while. Your email lists should be updated based on the customer's choices.
‍
Fortunately, you do not have to do this manually because ShopAgain can manage it for you. 
ShopAgain: A One-Stop Email Marketing Solution
‍
As an AI-powered, automated, omnichannel retention marketing platform, ShopAgain is your one-stop email marketing solution. It not only offers pre-built retention marketing email, SMS, and WhatsApp campaigns but also offers personalized micro-segmented customer lists. 
Use ShopAgain to increase your revenue by up to 25%. 
Frequently Asked Questions
‍
What is marketing automation strategy?
‍
It refers to using marketing automation techniques to create a streamlined, efficient way in which repetitive marketing tasks such as sending emails and SMSes, social media postings, and ad campaigns are managed. 
What kind of emails should I include in my email marketing automation?
‍
The email campaigns that may be automated are the welcome series, the abandoned cart series, thank you emails, win-back emails, order confirmation emails, and special date (birthdays and anniversaries) emails.
---