Product Recommendation Email: Best Practices, Examples & More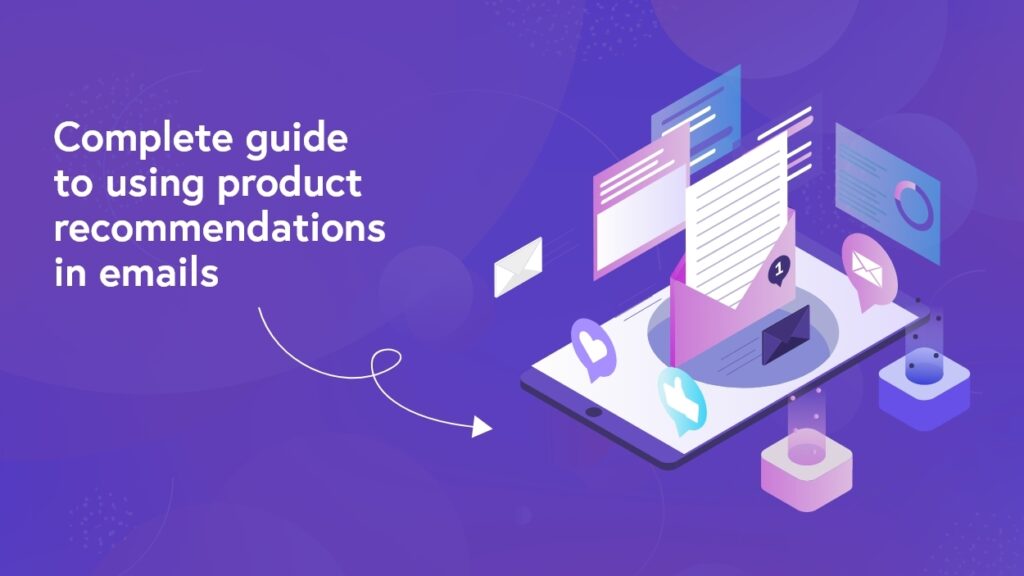 ‍
Product Recommendation Email Best Practices
‍
Meet Sarah, an avid online shopper who loves browsing through e-commerce websites. However, with so many options available, she often finds herself lost and confused about what to buy. Have you ever found yourself in a similar situation? But one day, Sarah received an email that changed her shopping game: it had personalized product recommendations in email based on her previous purchases and browsing history. Suddenly, Sarah had a clear direction and found exactly what she wanted. That's the power of product recommendation in e-commerce. They help users like Sarah find what they need, make their shopping experience easier, and increase the likelihood of a purchase. In this blog, we'll explore the best practices for creating effective product recommendation emails that will boost your e-commerce sales.
Product Recommendation Email Examples
‍
Using well-timed, relevant product recommendation emails in your marketing campaign is a great way to guide customers in the right direction. Product recommendation emails have been shown to increase click-through rates by 300% or more, making them a tried-and-true method of increasing traffic to your e-commerce site and increasing average purchase value.
Here are 11 product recommendation examples to make use of your marketing approach. We have also provided a product recommendation email template for each example.
1. Welcome Email
A welcome email is the first communication that a new subscriber receives from an e-commerce brand after signing up for their email list. The purpose of a welcome email is to introduce the brand, set expectations, and provide some sort of value to the subscriber.
Using product recommendations in a welcome email is a great way to start building a relationship with your new subscriber and encourage them to start browsing your products. You can include recommendations based on popular or best-selling products, or even personalize the recommendations based on their previous browsing or purchase history. By providing email recommendations, you can increase the chances of the subscriber engaging with your brand and making a purchase. Additionally, you can offer a discount or special offer on the recommended products to incentivize them to take action.
‍
‍
‍
‍
2. Browse Abandoned Email
A browse abandonment email is an email sent to a user who has browsed through your e-commerce store but left without making a purchase. The email is designed to encourage the user to return to the site and make a purchase by reminding them of the products they viewed and recommending products to customers.
Product recommendations are an excellent tool to use in browse abandonment emails. By analyzing the user's browsing history, you can recommend products that are similar to the ones they viewed or complementary to those products. This personalization can increase the chances of the user returning to your site and making a purchase.
For example, if a user browsed through a selection of dresses on your e-commerce site but left without making a purchase, a browse abandonment email could include product recommendations for similar dresses, accessories, or shoes that would complement the dress they viewed. This personalization can increase the relevance of the email and encourage the user to return to your site and make a purchase.
‍
3. Abandoned Cart Email

Abandoned cart emails are messages sent to customers who have added items to their shopping cart but left the website without completing the purchase. These emails aim to remind customers of the items they left behind and encourage them to return to the website and complete their purchase.
Product recommendations can be used in abandoned cart emails to suggest similar or complementary products to the ones left in the cart. These recommendations can serve as a reminder of the items the customer was interested in and help them find other products they may be interested in purchasing. For example, if a customer left a pair of shoes in their cart, the abandoned cart email could include recommendations for matching socks or a shoe care kit.
‍
‍
‍
4. Personalized Newsletter
Personalized newsletters are an excellent way to keep your subscribers informed about new products, promotions, and updates on your e-commerce store. To create a personalized newsletter, you can use data such as purchase history, browsing history, and search history to customize the content for each subscriber.
When it comes to email product recommendations, you can include a section in your newsletter that showcases products related to the subscriber's browsing or purchase history. You can also segment your subscriber list and create newsletters that cater to their specific interests or preferences.
In terms of the frequency of your newsletters, it depends on your business and the preferences of your subscribers. Generally, it's recommended to send newsletters at least once a month but not more than once a week to avoid overwhelming your subscribers with too many emails.
To ensure the effectiveness of your personalized newsletters, it's crucial to use a reliable email marketing platform that allows you to automate the process, track metrics such as open rates and click-through rates, and analyze the data to refine your approach.
‍
‍
5. Win-Back Email
A winback email is a type of marketing email sent to customers who haven't made a purchase in a while, with the goal of enticing them to return and shop again.
To use product recommendations in winback emails, you can suggest products related to their past purchases or browsing history, or recommend popular products in their favorite categories.
In terms of content, you can use persuasive language to remind the customer of the benefits of shopping with your brand, such as exclusive deals, free shipping, or a loyalty program. You can also use urgency by adding a limited-time offer or a countdown timer to encourage them to take action.
As for timing, it's best to wait a few weeks or months after the customer's last purchase before sending a winback email. It's also a good idea to segment your audience based on their purchase history and send personalized messages accordingly.
‍
Below are some product recommendation emails examples for sending to inactive customers.
‍
Hey! I hope you're having a great day! Check out our newest collections.
I wanted to make sure you saw this limited-time offer.
This weekend only, all items are on sale!
We miss you! Here's what we've been up to lately.
‍
‍
6. Post Purchase Email
Post-purchase emails are usually sent after a customer has made a purchase on your e-commerce website. The timing of these emails can vary, but it's generally a good idea to send them within a few days of the purchase.
Product recommendations can be used in post-purchase emails to encourage customers to make another purchase or to recommend related products that they might be interested in. For example, if a customer bought a pair of shoes, you could recommend complementary products like shoe polish or insoles.
Here are some subject line ideas for post-purchase email examples that include product recommendations in email:
Love your purchase? Check out these related items!
Your order is complete – but there's more to see!
Get more from your purchase – shop our recommended products!
Thanks for shopping with us – here's what we think you'll love next.
We think you'd look great in these – recommended products just for you.
Remember, your post-purchase emails should aim to provide value to your customers and build a relationship with them, so make sure your product recommendations are relevant and personalized to their interests and purchase history.
Here are some tips for writing the best Post Purchase Emails.
‍
7. Back-in-Stock Email
A back-in-stock email is a type of email sent to customers who previously showed interest in a product that was out of stock but is now available again. These emails can help to re-engage customers who were previously interested in a product but may have moved on to other options.
To use product recommendations in back-in-stock emails, you can suggest similar or complementary products that may be of interest to the customer based on their previous browsing or purchase history.
In a back-in-stock email, you can acknowledge that the product is now back in stock and emphasize the urgency to act quickly before it sells out again. You can also highlight any new features or improvements to the product since it was last available.
It's important to send back-in-stock emails as soon as possible after the product becomes available again to maximize the chances of the customer making a purchase. Consider sending a follow-up reminder email a few days later to further encourage the customer to make a purchase.
Some possible subject lines for back-in-stock emails are:
"It's Back! Get [Product Name] Before It's Gone Again"
"Good News – [Product Name] Is Back in Stock"
"Don't Miss Out! [Product Name] Is Available Again"
"Your Wait is Over – [Product Name] Is Back in Stock"
"Hurry, Limited Stock Available – [Product Name] Is Back"
‍
‍
‍
‍
8. Product Launch Email
Product launch emails should be sent when you have a new product or collection ready to launch. To use product recommendation in them, you can suggest related or complementary products to the one being launched. For example, if you're launching a new line of dresses, you could recommend accessories or shoes that would pair well with them.
Here are some email subject lines for product launch emails with product recommendations:
"New dresses are here! Complete your look with our accessory picks"
"Introducing our latest collection + matching shoe recommendations"
"New products alert: Check out our top picks to complete the look"
"Be the first to shop our new arrivals + our product recommendations"
"Get ready for spring with our new collection and product suggestions"
‍
‍
‍
‍
9. Loyalty Program Email
A loyalty-program email is a type of email sent to customers who are part of a loyalty program. In these emails, e-commerce businesses can use product recommendations to suggest products to loyal customers based on their past purchases or preferences. These emails can be used to offer exclusive discounts or early access to sales and new products. When sending these emails, it is important to make the customer feel appreciated and valued for their loyalty to the brand. 
‍
The timing of these emails can vary, but it is recommended to send them on a regular basis, such as monthly or quarterly, to keep customers engaged and informed about their loyalty rewards.
‍
Some example subject lines for loyalty program emails could include:
‍
"Unlock new rewards with your loyalty points"
"You're getting closer to a new loyalty level"
"Exclusive offer for our loyal customers"
"Celebrate your loyalty with a special discount"
"We appreciate your loyalty – here's a special thank you"
‍
‍
‍
‍
10. Giveaway Email
A give-away email is a promotional email that offers customers a chance to win a prize or receive a free item with their purchase. This type of email can help to generate excitement and encourage engagement with your brand.
‍
To use product recommendations in give-away emails, you can showcase items that complement the prize being offered or offer a discount code for a related product.
‍
When writing a give-away email, it's important to clearly communicate the details of the promotion, including the prize, how to enter, and any rules or restrictions. It's also a good idea to create a sense of urgency by setting a deadline for entries or highlighting a limited availability of the prize.
‍
Give-away emails can be sent on special occasions like holidays, birthdays, or the anniversary of a customer's first purchase. You can also use them as a way to re-engage inactive customers or to promote a new product or collection.
‍
Some example subject lines for give-away emails include:
‍
"Win [prize] with our latest give-away!"
"Don't miss out! Enter our give-away for a chance to win [prize]!"
"Celebrate with us and enter to win [prize]!"
‍
‍
‍
‍
11. Seasonal Email
Seasonal emails in ecommerce are sent out during particular occasions or seasons, such as holidays, birthdays, or seasonal promotions. These emails typically offer deals or promotions to encourage customers to shop during that time.
‍
Product recommendations can be used in seasonal emails to suggest related or complementary products that customers may be interested in based on their past purchases or browsing behavior. For example, if a customer has bought a winter coat in the past, a seasonal email can suggest gloves and hats to go with it.
‍
The best time to send seasonal emails varies depending on the occasion or season being targeted. For example, holiday emails may be sent a few weeks before the holiday, while seasonal promotion emails may be sent at the beginning of the season. It's important to plan ahead and send seasonal emails at the appropriate time to maximize their impact.
‍
‍
‍
‍
Why Product Recommendation Emails are Important for your Business
‍
Product recommendation emails are important for your business because they can increase customer engagement, drive sales, and improve customer satisfaction. By providing personalized product suggestions, businesses can create a more tailored and relevant product recommendations for their customers, leading to higher conversion rates and increased customer loyalty. Product recommendations email can also help businesses to upsell and cross-sell products, leading to higher average order values and increased revenue.
Product recommendations best practices should be followed when crafting these types of emails to ensure maximum impact on the customer: One practice is to include an incentive, such as free shipping or free returns, so that the potential customer has something more to look forward to and second-best practice of Product recommendation email is sending out multiple emails with different offers, so each one feels free of spam. You should also avoid using cliche phrases like "our most popular" because they will likely appear disingenuous. You can also use this email opportunity to educate your e-commerce customers about new trends or newly available products through blog posts or links to your website.
‍
‍
Frequently Asked Questions
‍
‍
What is a product recommendation email?
A product recommendation email is an email in which a company recommends a product or service to a customer. These emails can be sent to customers who have already purchased from the company based on past purchases or to potential customers who may be interested in the product based on browsing history.
‍
‍
What is a personalized recommendation?
A personalized recommendation is a suggestion for a product or service that is tailored to an individual's specific interests, preferences, or past purchasing behavior.
‍
What are e-commerce recommendations?
Ecommerce recommendations are personalized suggestions for products or services that a customer might be interested in, based on their previous purchase history or browsing behavior.
‍
‍
How do you write a product recommendation email?
To write a product recommendation email, introduce the product, highlight its benefits, include customer reviews and testimonials, offer a special promotion, provide a clear call-to-action, and close with gratitude.
‍
‍
‍
ShopAgain simplifies personalized product recommendations for e-commerce stores by offering bestsellers, trending, cross-sell, and upsell recommendations via email and website widgets. By installing ShopAgain, e-commerce store owners can easily access AI-driven recommendations tailored to their customer data.
‍
‍
---